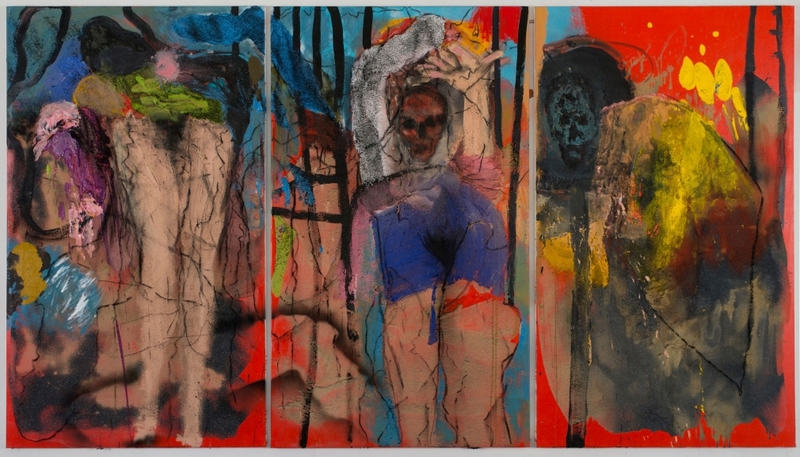 24 May 2017
Looking at the Present: Recent Works by Jim Dine
Richard Gray Gallery, Gray Warehouse
Reviewed by Tom Pekovitch
2044 W. Carroll Avenue, an address that meant nothing just weeks ago, has burst onto the map with ferocity. Richard Gray's new warehouse space has surely seated itself as the most impressive gallery in the city of Chicago. With this momentous addition to the community comes an inaugural show which is just as stunning, Jim Dine's "Looking at the Present."
Chaotic self-investigation and claustrophobic disturbances in Dine's paintings contrast with the structured spaciousness, and the spotlit arena in which they are hung. Like the placement of the gallery in its incongruent surroundings, "Looking at the Present" holds the captivating impression of a buried B-side to Dine's classic repertoire.
Dine delivers a level of excellence that has been lacking in Chicago as of late. However, there are works that bring it, such as, The Funny Pleasures of War, and sit noticeably above, while others seem to just be there to fill the colossus that is Gray's new space.
| | |
| --- | --- |
| Exhibition | Looking at the Present: Recent Works by Jim Dine link |
| Start date | 28 Apr 2017 |
| End date | 10 Jun 2017 |
| Presenter | Richard Gray Gallery link |
| Venue | Gray Warehouse, 2044 West Carroll Avenue, Chicago, IL, USA map |
| Image | Jim Dine, The Funny Pleasures of War, 2015-16, acrylic and sand on linen, 76 3/4 x 135 3/4 inches, courtesy of Richard Gray Gallery |
| Links | Reviews of current exhibitions near this one |
| Share | Facebook, Twitter, Google+ |