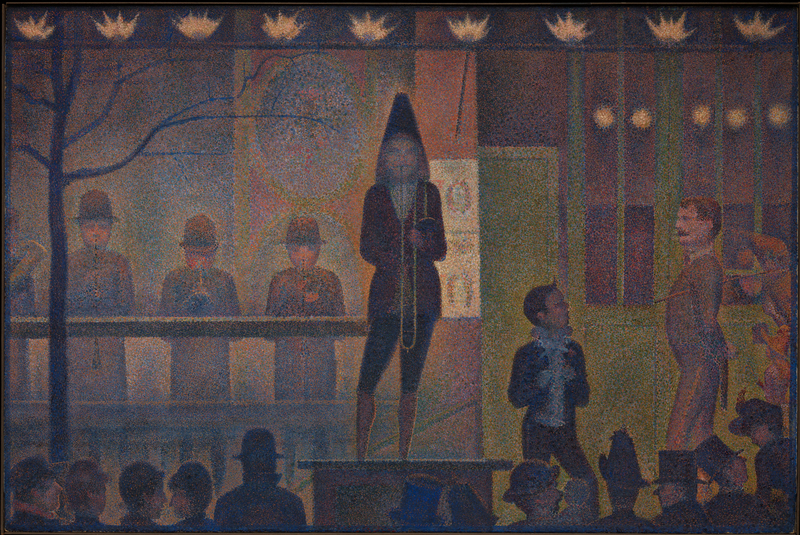 28 May 2017
Seurat's Circus Sideshow
Metropolitan Museum of Art
Reviewed by Arthur Whitman
Arranged by Met curator Susan Alyson Stein and art historian Richard Thomson, "Seurat's Circus Sideshow" sheds new light on a familiar gem from the collection. Completed in 1888, Parade de Cirque occupies a liminal place in the painter's brief career. Too, it marries his era's fascination for modern city life to a forward-looking abstraction.
His exquisite conté drawings serve as studies and independent thoughts. Paintings by French artists, older and younger, explore popular performance as anecdote and metaphor. Copious ephemera give historical depth to circus-mania and show the importance of color theory.
Pictures still the world, lived in movement. Parade's phantasmal, ambiguously geometric tableau does so emphatically: bowler-hatted automatons with their instruments, a silhouetted trombonist in a conical hat, ringleader Fernand Corvi in stiff profile sporting mustache and tails. And yet, signs of life: a sinuous tree defies the vertical while faces in the crowd exchange glances.
| | |
| --- | --- |
| Exhibition | Seurat's Circus Sideshow link |
| Start date | 17 Feb 2017 |
| End date | 29 May 2017 |
| Presenter | Metropolitan Museum of Art link |
| Venue | 1000 Fifth Avenue, New York City, NY, USA (at 82nd Street) link map |
| Image | Georges Seurat, Circus Sideshow (Parade de cirque), 1887-88, oil on canvas, 39 1/4 x 59 inches, bequest of Stephen C. Clark, 1960, courtesy of the Metropolitan Museum of Art |
| Links | Reviews of current exhibitions near this one |
| Share | Facebook, Twitter, Google+ |