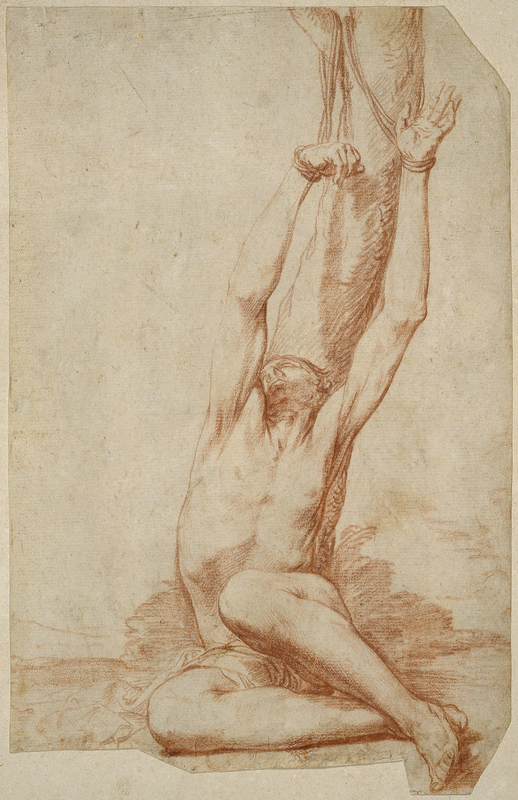 31 May 2017
Between Heaven and Hell: The Drawings of Jusepe de Ribera
Meadows Museum, Southern Methodist University
Reviewed by Tim McClure
The partnership between the Prado and the delightful little Meadows Museum has produced the first exhibition in the US in 25 years of works of Jusepe de Ribera, and the most comprehensive look at the the Spanish Baroque master's graphic work ever.
Ribera ignited his Spanish- and Venetian-derived pictorial language with Caravaggist chiaroscuro in unforgettable compositions like Apollo and Marsyas (1637), a picture at once magnificent and terrifying. Ribera's sensibility eschewed the ideal for the true, thus his forms, invariably correct, could be ordinary or even coarse. His touch was energetic and springy, tentatively searching here, swaggeringly assertive there.
From his hand came seemingly effortless essays in figure drawing, incisive recordings of the world around him, startlingly alive scenes of cruelty and horror, and engaging, curious grotesques and caprices. Even the smallest of the drawings and prints convey a sense of the grandeur of the art of the Spanish Golden Age.
| | |
| --- | --- |
| Exhibition | Between Heaven and Hell: The Drawings of Jusepe de Ribera |
| Start date | 12 Mar 2017 |
| End date | 11 Jun 2017 |
| Presenter | Meadows Museum link |
| Venue | Southern Methodist University, 5900 Bishop Boulevard, Dallas, TX, USA map |
| Image | Jusepe de Ribera, Study for Martyrdom of St. Sebastian, ca. 1626, red chalk on paper, William Lowe Bryan Memorial, Indiana University Art Museum, courtesy of the Meadows Museum |
| Links | Reviews of current exhibitions near this one |
| Share | Facebook, Twitter, Google+ |