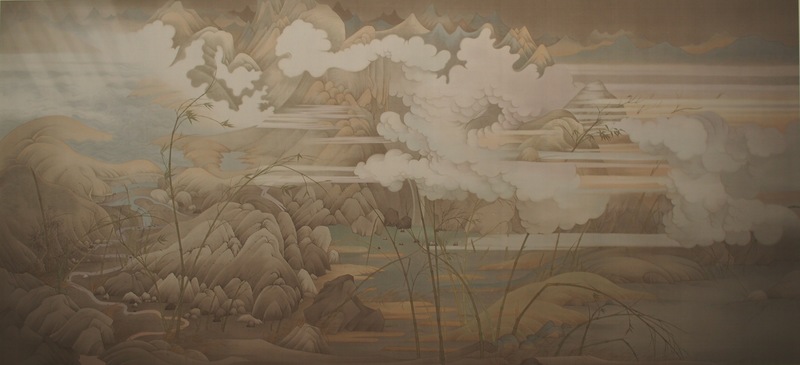 07 Jun 2017
China Beautiful
Biennale di Venezia, Pavilion of the Chinese Republic, Arsenale
Reviewed by Rob Mackenzie
Among the many art exhibits at the Venice Biennale, the China Pavilion's rich panoply of traditional work stands out. Ethereal silk paintings, exquisite embroidery, and playful shadow puppet demonstrations accompanied by live musicians are reasons enough to seek out this pavilion off the beaten track. But Hao Ling's shan shui ink-on-silk drawings, displayed separately in the individual artists' Pavilion of Traditions, rise to the top.
Updating the ancient genre of East Asian literary-pictorial landscape, Ling's modern influences include Borges, Calvino, and Pamuk. Bravura calligraphy, subtle modeling, and exquisite detailing of forms ranging from plants to planets combine on three tapestry-sized panels to draw viewers from across the room to nose-close.
A glass case with Ling's historical research and preparatory studies adds to the richness of a consummate display. It's worth the trip just to see these three gorgeous works in the China Pavilion, and Venice.
| | |
| --- | --- |
| Exhibition | China Beautiful |
| Start date | 13 May 2017 |
| End date | 26 Nov 2017 |
| Presenter | Biennale di Venezia link |
| Venue | Pavilion of the Chinese Republic, Arsenale, Venice, ITA map |
| Image | Hao Ling, Eight Views of Xiaoxiang: Myriads of Transformations, 2015, ink on silk, 5 x 12 feet, courtesy of the 57th International Art Exhibition, photo by Victor Salvo |
| Links | Reviews of current exhibitions near this one |
| Share | Facebook, Twitter, Google+ |