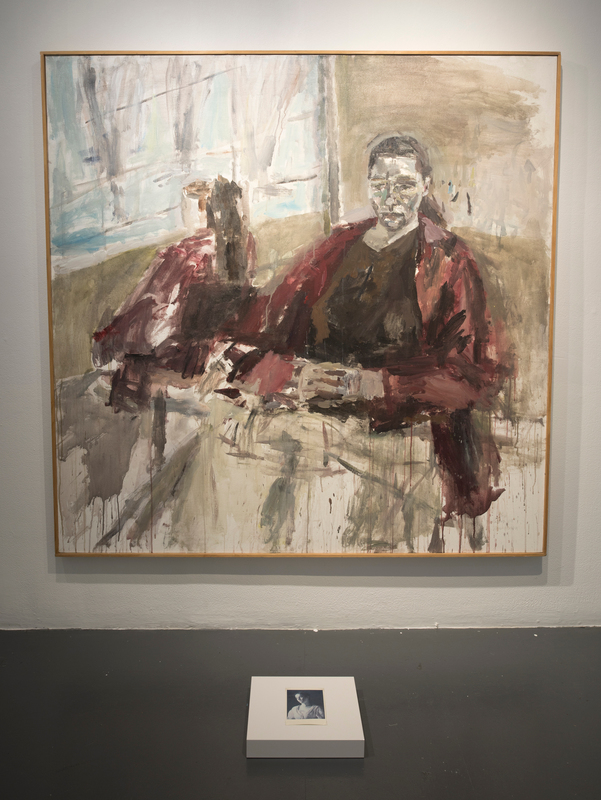 07 Jun 2017
Lawrence Morelli: The Third Person
Artspace
Reviewed by Heather Kapplow
Artspace's survey of New Haven painter Lawrence Morelli's work feels like a studio visit. There's no mess, but the combination of what's been included has an immediacy to it that gives the impression that everything in the gallery was yanked right from the studio and put on display within few hours.
This effect is achieved via the exhibition's content, grouped by type. One room features dozens of informal sketches, many of them on bar or coffee shop napkins. Another room is all photographs: a lineup of reference Polaroids, their edges dappled with smeared paint and coffee, telling two stories at once. There are photos of Morelli's models, re-dressed after they have finished posing.
The paintings are of two varieties - giant, gestural, monochrome portraits, and moderately-sized color oils.
Everything, from the napkins to the paintings, is square in format, which is interesting in that it's the only thing about Morelli's work here that feels obsessive.
| | |
| --- | --- |
| Exhibition | Lawrence Morelli: The Third Person link |
| Start date | 14 May 2017 |
| End date | 17 Jun 2017 |
| Presenter | Artspace link |
| Venue | 50 Orange Street, New Haven, CT, USA (corner of Orange & Crown) map |
| Image | Installation view, Lawrence Morelli: The Third Person, image courtesy Artspace, photo by Jessica Smolinski |
| Links | Reviews of current exhibitions near this one |
| Share | Facebook, Twitter, Google+ |