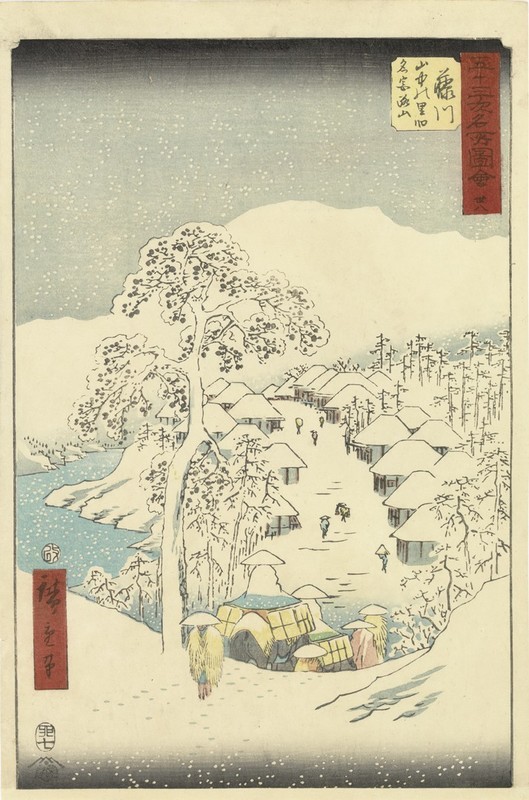 09 Jun 2017
Fifty-Three Stations of the Upright Tokaido
Ronin Gallery
Reviewed by Michael Stiefel
Hiroshige's "Upright Tōkaidō" series, depicting the rest stations on the coast road between Tokyo and Kyoto, transformed what were inexpensive souvenirs into art. The 38th image depicts travelers descending into Fujikawa on a snowy night.
Using bokashi, he imbued a sense of depth in the sky. The tree and the huts form an arch over the voyagers and frame the path. The night and the snow, rendered with a minimal use of color and line, create a feeling of peacefulness and intimacy.
The portrayal of everyday life, simplicity of design, and clear color of Japanese prints provided confirmation for the Impressionists that they were on the right track. Nostalgia for the countryside, or for better times and places, often strikes us when looking at these ukiyo-e images. In fact, that is what made them so popular with the original Japanese buyers, city dwellers longing for an imagined, vanished past.
| | |
| --- | --- |
| Exhibition | Fifty-Three Stations of the Upright Tokaido link |
| Start date | 02 May 2017 |
| End date | 10 Jun 2017 |
| Presenter | Ronin Gallery link |
| Venue | 425 Madison Avenue, 3rd Floor, New York City, NY, USA (southeast corner of 49th Street) map |
| Image | Hiroshige, Fujikawa, from The 53 Stations of the Tokaido, 1855, woodblock print, 14 x 9.25 inches, courtesy of Ronin Gallery |
| Links | Reviews of current exhibitions near this one |
| Share | Facebook, Twitter, Google+ |