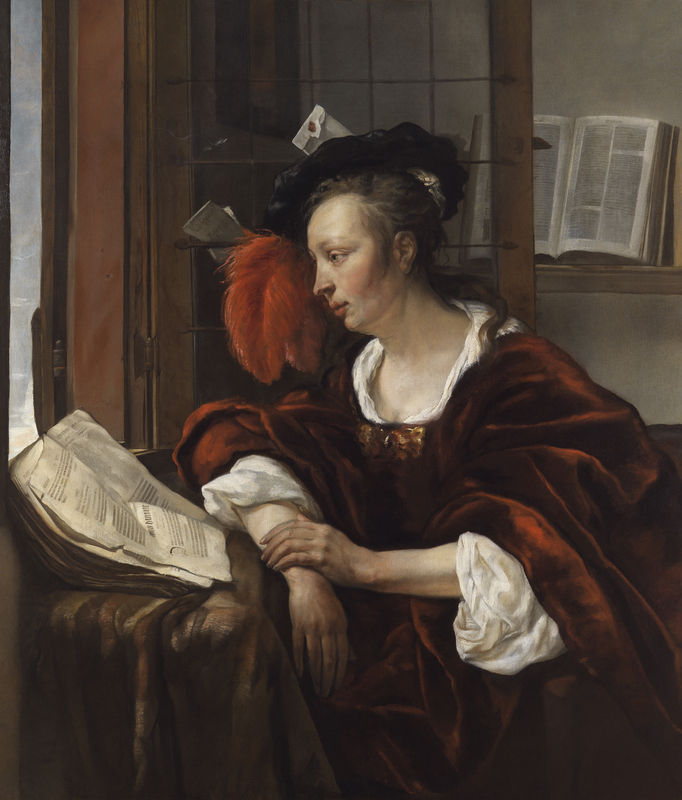 05 Apr 2017
An Inner World: Seventeenth-Century Dutch Paintings
Clark Art Institute
Reviewed by Franklin Einspruch
Every so often the Clark mounts a one-room exhibition, and they pick one of the little galleries to put it in. Inevitably they are tiny triumphs.
The latest is "An Inner World: 17th-Century Dutch Genre Painting." The small format is perfect for a style that regards scrutiny as an inherent good. Rembrandt, the radical, joked to viewers that paint fumes were toxic and they should back up a little. But the Dutch temperament held on, hence the glory that is Gabriel Metsu's Woman Reading a Book by a Window.
A velvet-clad lady has lifted her scholarly eyes from her tome and rested them upon an unseen landscape to the viewer's left, somewhere out that lovingly rendered window. Another book is open on the shelf for convenient cross-reference. As with the other works by Gerrit Dou, Jacob van Toorenvliet, Willem van Mieris, and Domenicus van Tol, the details reflect not just the material reality at the time, but the charmingly thoughtful bent of the Dutch mind.
| | |
| --- | --- |
| Exhibition | An Inner World: Seventeenth-Century Dutch Paintings link |
| Start date | 05 Mar 2017 |
| End date | 17 Sep 2017 |
| Presenter | Clark Art Institute link |
| Venue | 225 South Street, Williamstown, MA, USA map |
| Image | Gabriel Metsu, Woman Reading a Book by a Window, c. 1653-54, oil on canvas, 41.34 x 35.71 inches, © The Leiden Collection, New York |
| Links | Reviews of current exhibitions near this one |
| Share | Facebook, Twitter, Google+ |