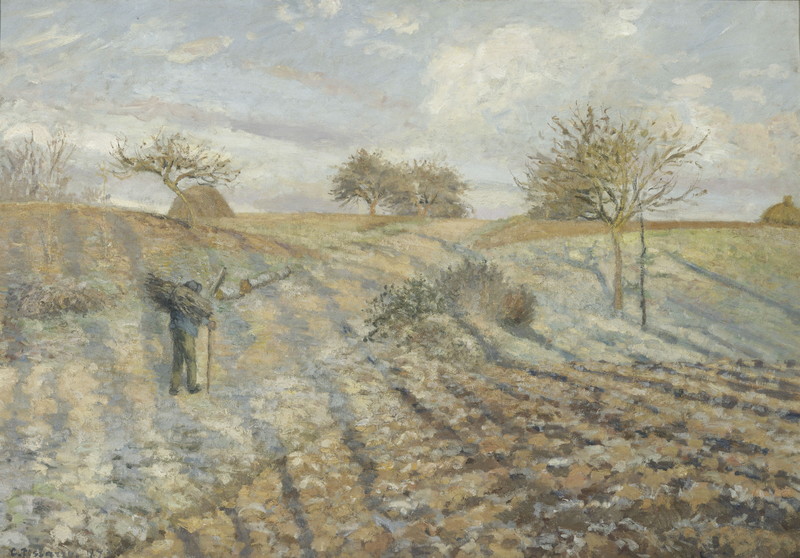 14 Jun 2017
Camille Pissarro: The First of the Impressionists
Marmottan Monet Museum
Reviewed by Ann Saul
Maybe it's time to reconsider Camille Pissarro. Called "the first Impressionist" by Paul Cézanne, he was that and much more, as shown by the elegant retrospective at the Musée Marmottan Monet in Paris.
An early painting depicts the misty atmosphere of Saint Thomas, the artist's birthplace, in an Impressionistic style, long before Monet and the others.
Gelée blanche à Ennery (1873), exhibited in the first Impressionist exhibition, is covered with rows of green and yellow crossed by dark stripes, a seemingly abstract design. The man and bushes provide the only clue that it is a plowed field layered with purple shadows.
Pissarro's experiments with pointillism include a painting of the Seine at Rouen in which fog and water dissolve into grays, yellows, and blues, looking much like Rothko. He used streets and shadows to make complex geometric designs rendered in colored patches of paint. Nearly sixty works show how Pissarro's innovations led the way to modern art.
| | |
| --- | --- |
| Exhibition | Camille Pissarro: The First of the Impressionists |
| Start date | 23 Feb 2017 |
| End date | 02 Jul 2017 |
| Presenter | Marmottan Monet Museum link |
| Venue | 2 Rue Louis Boilly, Paris, FRA map |
| Image | Camille Pissarro, Gelée blanche à Ennery, 1873, oil on canvas, 65 x 93 cm, Paris, musée d'Orsay, bequest of Enriqueta Alsop, in the name of Dr. Eduardo Mollard, 1972, photo © RMN, Grand Palais (musée d'Orsay) / Hervé Lewandowsk |
| Links | Reviews of current exhibitions near this one |
| Share | Facebook, Twitter, Google+ |