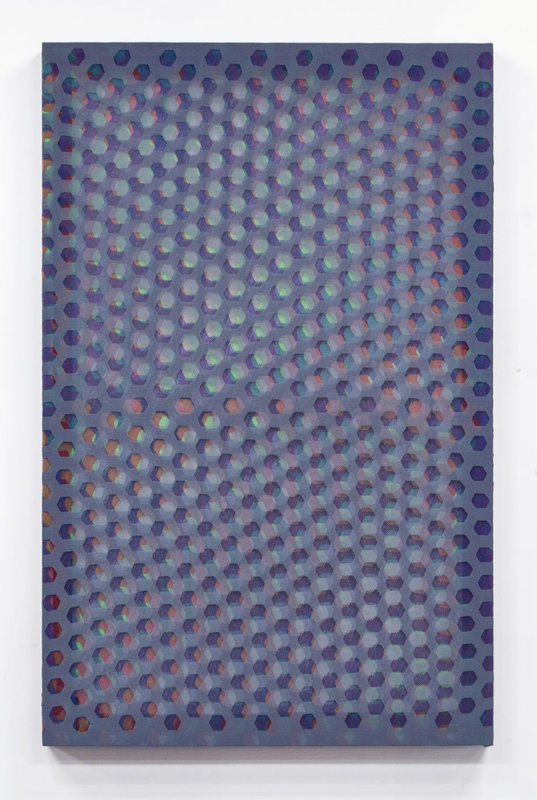 05 Jul 2017
Gina Hunt: Transmitters
65GRAND
Reviewed by Tom Pekovitch
Glimpses of alluring rainbows can be caught at 65GRAND right now, in Gina Hunt's "Transmitters." Works consist of cut, layered, hand-dyed mesh, stretched over frames, resulting in translucent gradients and patterns. Hunt plays with the retina by letting light pass through the screens. Illusion and illumination becomes intermingled, and refraction becomes palpable.
The frames, painted an ultra-matte gray, seem a bit tentative, and unfortunately they fight the ephemeral effects of the prisms. But it is refreshing to see such a fundamental topic - light - being humbly revisited in an art world that has recently been overpopulated by generic, hollow paintings, wrapped in dense and theatrical statements.
I have no doubt the frolicking of saturated iridescence which runs through the show would have struck marvel into the great Isaac Newton. This exhibition emits electricity on par with the currents implied by its title.
| | |
| --- | --- |
| Exhibition | Gina Hunt: Transmitters link |
| Start date | 09 Jun 2017 |
| End date | 15 Jul 2017 |
| Presenter | 65GRAND link |
| Venue | 3252 W North Avenue, Chicago, IL, USA map |
| Image | Gina Hunt, The Rainbow is a Stereoscopic Picture, 2016, hand-dyed and laser-cut scrim and chiffon over wooden frame, 50 x 32 x 2 1/2 inches, courtesy of 65GRAND |
| Links | Reviews of current exhibitions near this one |
| Share | Facebook, Twitter, Google+ |