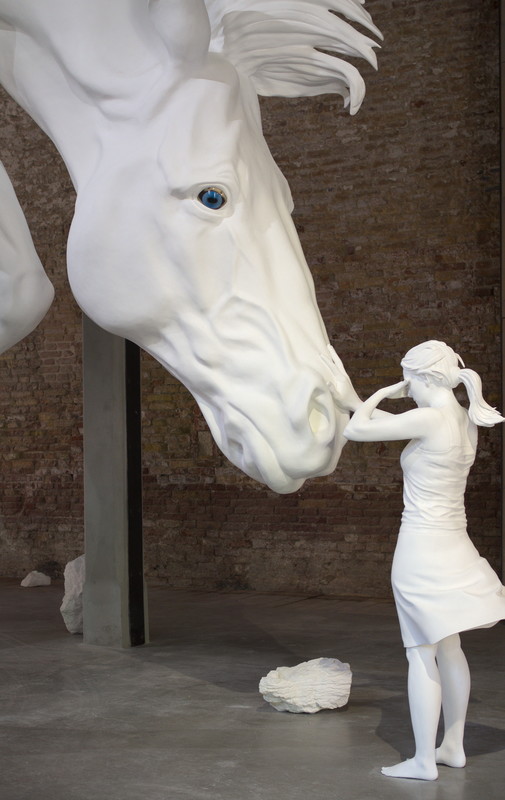 06 Jul 2017
Claudia Fontes: The Horse Problem
Biennale di Venezia, Argentinean Pavilion, Arsenale
Reviewed by Rob Mackenzie
The Biennale show-stopper this year is a young lady and her horse.
Rising to the ceiling in a former Arsenale cannon foundry, Argentinian sculptor Claudia Fontes's lustrous, enormous stallion of resin and marble rears over a life-sized equestrienne amid the rocky rubble from which they both might have been been sculpted.
The suspended marble fragments combine to cast an irregular shadow on a nearby wall in the shape of a disintegrating beast. They dwarf a third figure, a hunched young boy trying to make sense of it all.
Echoes of viewers' footfalls in the cavernous space punctuate the unspoken tragedy of a beast whose survival has historically depended on its being exploited and whose time now seems past.
Freed from bridle, spur, and rider - unlike the countless bronze steeds in piazzas across Italy - and its life no longer inextricably linked linked to its master, the horse faces an uncertain future. Fontes and other artists here seem to say ours is uncertain as well.
| | |
| --- | --- |
| Exhibition | Claudia Fontes: The Horse Problem |
| Start date | 13 May 2017 |
| End date | 26 Nov 2017 |
| Presenter | Biennale di Venezia link |
| Venue | Argentinean Pavilion, Arsenale, Venice, ITA map |
| Image | Installation view, Claudia Fontes, The Horse Problem, resin and marble dust sculptures, 57th International Art Exhibition, Biennale de Venezia, curated by Andrés Duprat, photo by Victor Salvo |
| Links | Reviews of current exhibitions near this one |
| Share | Facebook, Twitter, Google+ |