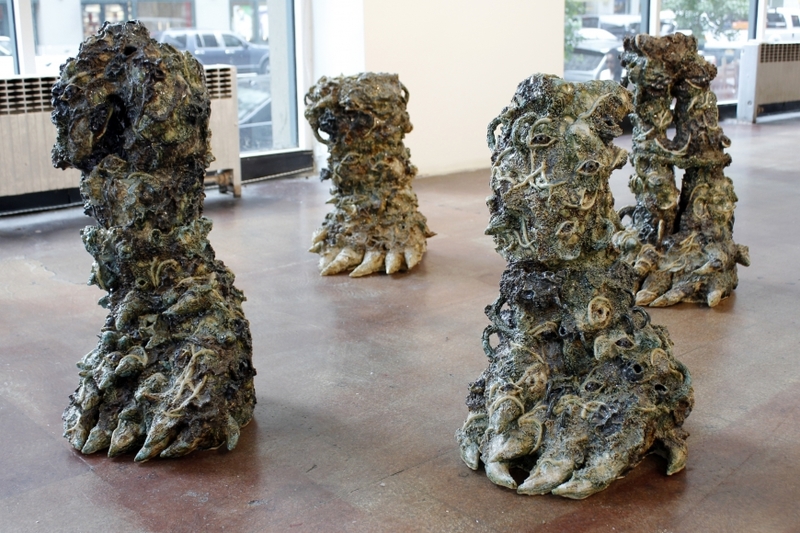 11 Jul 2017
Material Mythos: Laura Bernstein, Ben Dowell, Heidi Lau, Sangram Majumdar, and Clintel Steed
Geary Contemporary
Reviewed by Ashley Norwood Cooper
Meaning-making and materiality are intertwined.
Sangram Majumdar paints the tension between substance and depiction. Surfaces hold and then give way to illusion, positive and negative spaces reverse, imagery appears and then fades into abstraction. Leaving much unresolved, he draws the us into the process of painting. The viewer becomes a co-creator.
In Daoist mythology, the goddess Nuwa created humans out of mud. She also cut the legs off of a turtle to form the Pillars of the Earth. Heidi Lau has fashioned her own Pillars of the Earth out of clay. Textured and craggy, her turtle legs are covered with eyes. Instead of a male creator-god and a male artist as sub-creator, we see the art of a female artist following in the shadow of the creator-goddess.
For the artists in "Material Mythos," materials are powerfully generative, both directing and expanding the ways they understand the world and their roles as makers.
Exhibition
Material Mythos: Laura Bernstein, Ben Dowell, Heidi Lau, Sangram Majumdar, and Clintel Steed link
Start date
22 Jun 2017
End date
29 Jul 2017
Presenter
Geary Contemporary link
Venue
185 Varick Street, New York City, NY, USA map
Image
Heidi Lau, Pillars of the Earth, 2015, glazed ceramics, 32 x 16 x 18 inches each, courtesy of Geary Contemporary
Links

Reviews of current exhibitions near this one

Reviews by Ashley Norwood Cooper

Share
Facebook, Twitter, Google+