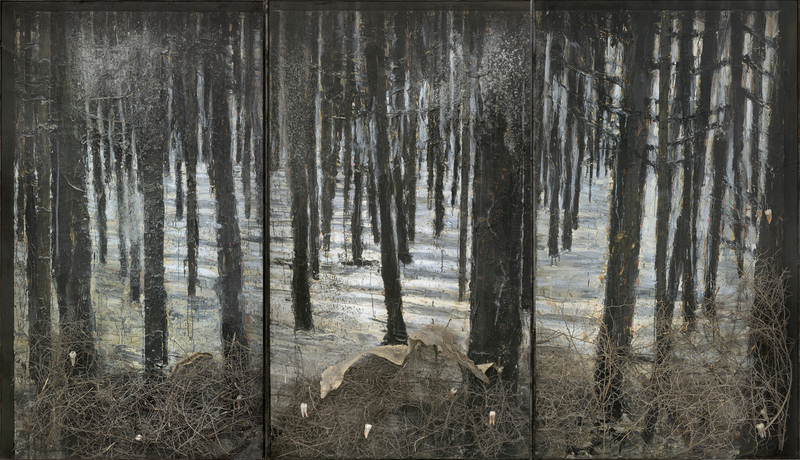 12 Jul 2017
Regeneration Series: Anselm Kiefer from the Hall Collection
NSU Art Museum
Reviewed by Elisa Turner
This is one of South Florida's most stunning museum shows ever. Anselm Kiefer is a remarkable witness for our time. History-laden visions fuel his art, informed by the horrific German legacy of World War II. Granted, he can veer into indulgent extremes, but his art is relevant to turmoil that's now causing public and private scars. He poetically combines evocative materials, from shards of glass to lead, sand, and ash.
One of the world's largest gatherings of his work, the Hall Collection, provides over fifty of the artist's books, works on paper, paintings, and sculpture for this exhibit, spanning 1969 to 2013.
Winterwald recalls Germany's Black Forest, a place where memory, fact, and myth mingle, made more vivid by the deep perspective of a snowy forest, rendered visceral by the foreground's "front line" of tangled thorn brushes speckled with stunted blossoms of synthetic teeth. In Die Schechina, epic loss freezes in time a romantic white gown blighted with broken glass.
| | |
| --- | --- |
| Exhibition | Regeneration Series: Anselm Kiefer from the Hall Collection link |
| Start date | 09 Nov 2016 |
| End date | 10 Sep 2017 |
| Presenter | NSU Art Museum link |
| Venue | One East Las Olas Boulevard, Fort Lauderdale, FL, USA map |
| Image | Anselm Kiefer, Winterwald, 2010, oil, emulsion, acrylic, shellac, ash, thorn bushes, synthetic teeth, and snakeskin on canvas in glass and steel frames, 130.5 x 227 x 14 inches, Hall Collection, courtesy of the Hall Art Foundation, photograph by Charles Duprat |
| Links | Reviews of current exhibitions near this one |
| Share | Facebook, Twitter, Google+ |