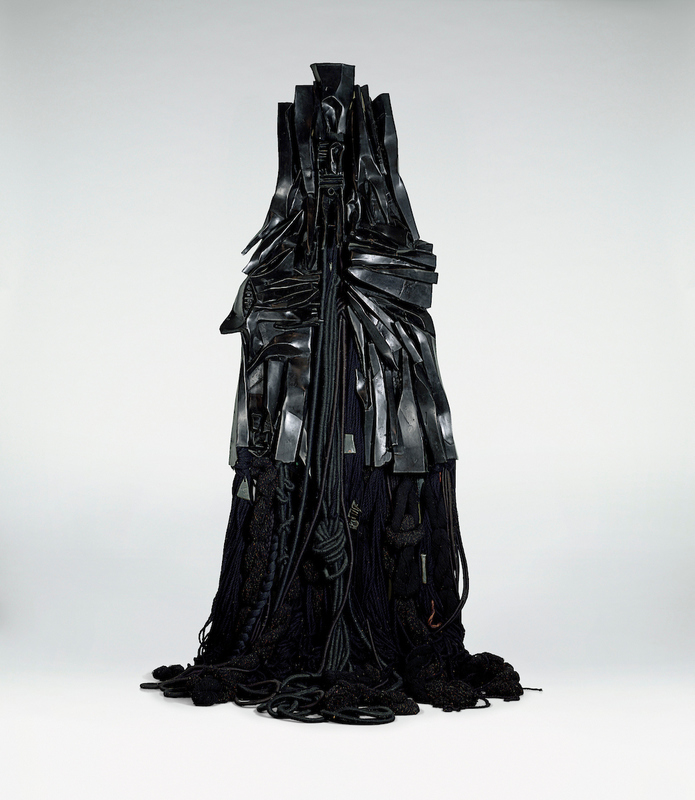 12 Jul 2017
We Wanted a Revolution: Black Radical Women, 1965-85
Brooklyn Museum
Reviewed by Kyrin Hobson
Like a serious party called forth across time and space, the galleries teem with voices of some forty artists. Their imagery, dialogues, innovations, and revelations meet passionately to recast feminist expression and challenge racial perception in a volatile era.
A stark, dark sculpture by Barbara Chase Ribaud towers as if personifying black female strength. Its contrast with the gown of white gloves worn by Lorraine O'Grady as Mlle. Bourgeoise Noire in staged protests at NY openings only hints at the diversity of issues and media engaged by these artists.
Pragmatism is a palpable thread here, raising resistance as it pulls through everything from personal letters and pamphlets to paintings and a riotous mix of media. To witness this revolution in hindsight is to see a scope that would have been unavailable in real time. Whether assailing oppression and exclusion from the margins, or asserting identity from the gut, the show captures experiences uniquely human, black, and female.
| | |
| --- | --- |
| Exhibition | We Wanted a Revolution: Black Radical Women, 1965-85 link |
| Start date | 21 Apr 2017 |
| End date | 17 Sep 2017 |
| Presenter | Brooklyn Museum link |
| Venue | 200 Eastern Parkway, Brooklyn, NY, USA map |
| Image | Barbara Chase-Riboud, Confessions for Myself, 1972, black patinated bronze with wool, 120 x 40 x 12 inches, University of California, Berkeley Art Museum and Pacific Film Archive, purchased with funds from the H. W. Anderson Charitable Foundation, 1972, © Barbara Chase-Riboud, courtesy of her representative Michael Rosenfeld Gallery, LLY, New York, NY, photographed for the University of California Berkeley Art Museum and Pacific Film Archive by Benjamin Blackwell |
| Links | Reviews of current exhibitions near this one |
| Share | Facebook, Twitter, Google+ |