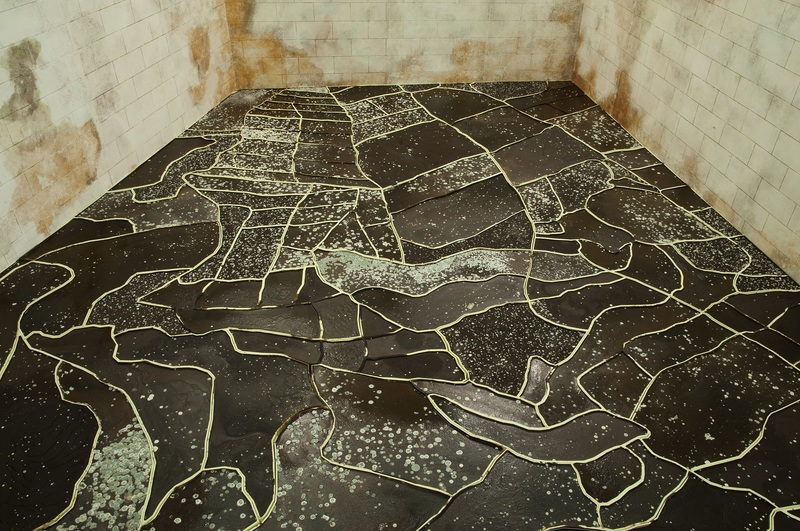 13 Jul 2017
Gal Weinstein: Sun Stand Still
Biennale di Venezia, Pavilion of the State of Israel, Giardini
Reviewed by Rob Mackenzie
The sun and time may have halted so Joshua's army could fight in daylight, but the miniature kibbutz that Gal Weinstein has spewed with coffee dregs evolves day by day. Not just his carpet "farms," but the walls and floors of the Israeli open-air pavilion, touched with java-soaked steel wool, sprout with molds day by day from the myriad spores wafting through humid Venetian air.
Weinstein's second-floor ballistic missile, its fuselage and exhaust fashioned from synthetic fiber, updates Joshua's battle story to be sure, but seems a space-filler by contrast.
The miracle of this installation is Weinstein's transformation of slimy fungi into representational art: a sun-shimmering Jezreel Valley landscape, surrounded by subtle wall patterns that evoke faded Byzantine frescoes in the crumbling palazzi of this ancient city.
To realize on closer inspection that the timeless geographies and patterned walls are growing and decaying as we watch is unnerving.
| | |
| --- | --- |
| Exhibition | Gal Weinstein: Sun Stand Still |
| Start date | 13 May 2017 |
| End date | 26 Nov 2017 |
| Presenter | Biennale di Venezia link |
| Venue | Pavilion of the State of Israel, Giardini, Venice, ITA map |
| Image | Gal Weinstein, Jesreel Valley, 2017, installation with wall-to-wall carpet and coffee dregs, about 10 x 15 meters, 57th International Art Exhibition, curated by Tami Katz-Freiman |
| Links | Reviews of current exhibitions near this one |
| Share | Facebook, Twitter, Google+ |