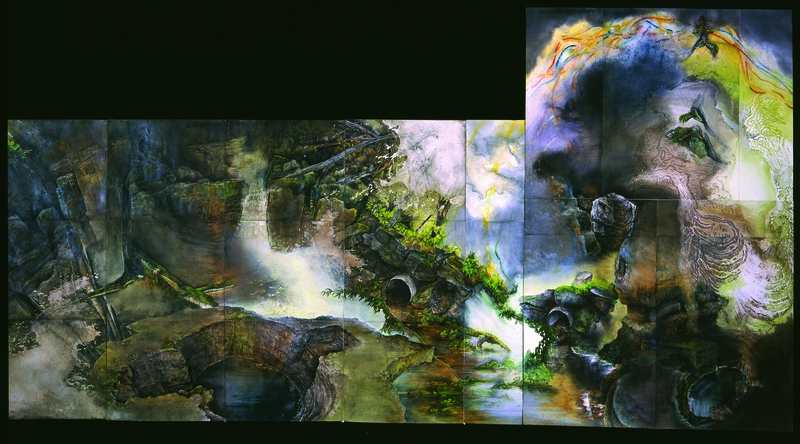 18 Jul 2017
Thomas Lyon Mills
Rafius Fane Gallery
Reviewed by Suzanne Volmer
Cinematic affinity, history, and Tolkien-style fantasy inform works on paper by Thomas Lyon Mills.
Today one can look into sealed catacombs with illumined periscopes to survey the contents. The work of Mills, who draws from them directly, communicates a similarly eerie probing. Darkly atmospheric dust-ups, flowing water, switchbacks in perspective, and split-second illumination play into the artist's interpretation of the subterranean. His labyrinth games for audiences involve directing attention into disequilibrium.
The artist's complex surfaces engage abstraction but ultimately compose as illustrative narratives. His expansive Orbiters and smaller Catacomb Masks 56 have a tactile range built from layers of watercolor, oil, acrylic, conte, charcoal, and printmaking on pieced-together paper. Mills's style renders meticulous incident in miniature to express the ephemerality of re-imagined lost civilizations, death, rebirth, spiritual matters, and mysteries of time.
| | |
| --- | --- |
| Exhibition | Thomas Lyon Mills link |
| Start date | 07 Jul 2017 |
| End date | 18 Aug 2017 |
| Presenter | Rafius Fane Gallery link |
| Venue | 460C Harrison Avenue, Suite #C24, Boston, MA, USA map |
| Image | Thomas Lyon Mills, Orbiters, watercolor, oil, woodcuts, conte crayon, charcoal, graphite on pierced paper, 65.5 x 126.5 inches, courtesy of Rafius Fane Gallery |
| Links | Reviews of current exhibitions near this one |
| Share | Facebook, Twitter, Google+ |