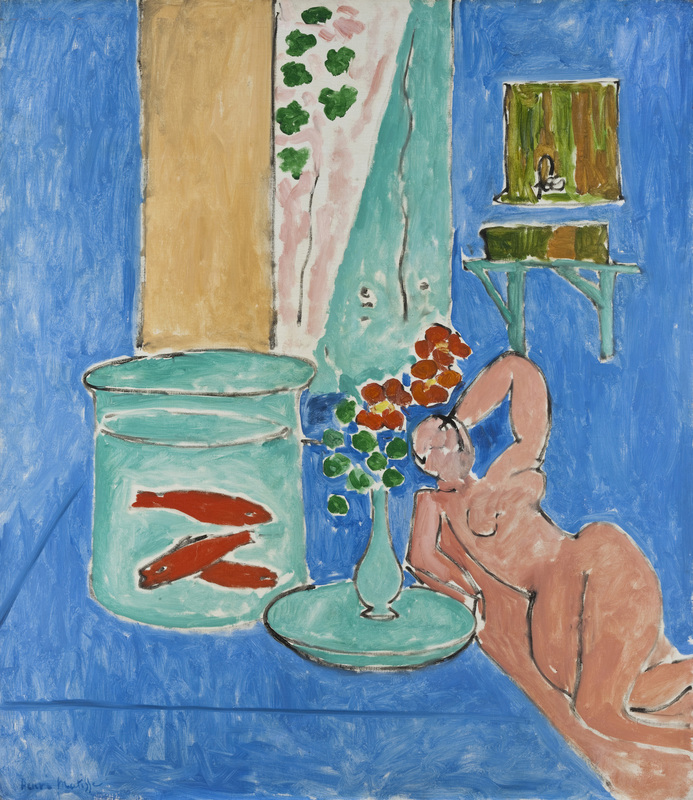 10 Apr 2017
Matisse in the Studio
Museum of Fine Arts, Boston
Reviewed by Elizabeth Michelman
Matisse surrounded himself with vases, pots, exotic tapestries, furniture, sculptures, and his own varied works. Wholes and fragments got freely swept into his art. Their charged and altered forms embodied the emotions of his evolving vision and technique. Museums in in Nice, London, and Boston have collaborated to bring together 39 objects paired with 78 works that bring them to life.
Matisse always distills and transforms. A painting of a glowering odalisque derives not from living flesh but from his earlier impassioned bronze. The straining form of a marble Roman torso dissolves in the rippling contours of a pair of female figures. The figure-ground reversals of this cobalt stencil print prefigure his blue nudes and the cut-outs.
Roots of these later inventions can be seen in the show's earliest Fauve works, dark, obsessive studies of a footed chocolate-server. Matisse's untamed strokes brush hot and cool around the trembling vessel whose delectable contents remain concealed.
Exhibition
Matisse in the Studio link
Start date
09 Apr 2017
End date
09 Jul 2017
Presenter
Museum of Fine Arts, Boston link
Venue
465 Huntington Avenue, Boston, MA, USA map
Image
Henri Matisse, Goldfish and Sculpture, 1912, oil on canvas, Museum of Modern Art, New York, gift of Mr. and Mrs. John Hay Whitney, 1955, © 2017 Succession H. Matisse / Artists Rights Society (ARS), New York, courtesy of the Museum of Fine Arts, Boston
Links

Reviews of current exhibitions near this one

Reviews by Elizabeth Michelman

Share
Facebook, Twitter, Google+