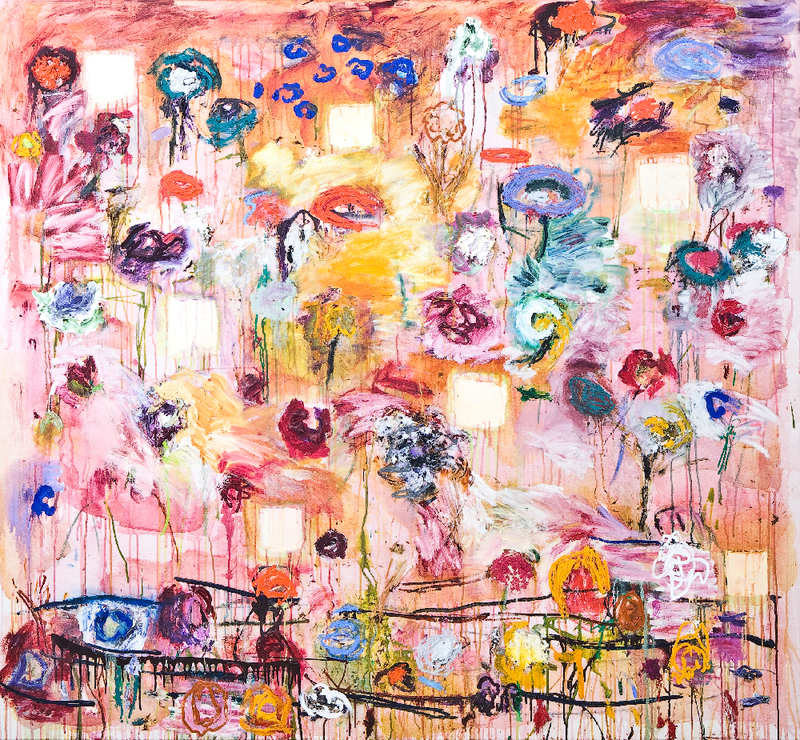 25 Jul 2017
Women Painting
Girls' Club, Miami Dade College Kendall Gallery
Reviewed by Elisa Turner
Brava to Girls' Club of Fort Lauderdale for presenting "Women Painting." Founded in 2006 by collectors Francie Bishop Good and David Horvitz, the pioneering nonprofit foundation nurtures South Florida, especially girls and women. With a catalog and documentary videos, this exhibit is the latest of such efforts, combining 52 paintings and other two-dimensional work from the founders' private collection, focused on art by women.
Artists such as Squeak Carnwath, Nicole Eisenman, and Joan Snyder share company with those less established from South Florida and beyond, like Dhruvi Acharya, Firelei Baez, Julie Davidow, and Vickie Pierre. Chantal Joffe paints a clever nod to Alice Neel. Grand diversity of style prevails, from abstract to text, figures to landscape.
A bold, layered abstraction that's sumptuous in pink, Snyder's Postmardemgardem salutes her lauded "stroke" paintings from the 1970s and the show's frankly feminist agenda, needed now more than ever.
| | |
| --- | --- |
| Exhibition | Women Painting link |
| Start date | 18 May 2017 |
| End date | 29 Sep 2017 |
| Presenter | Girls' Club link |
| Venue | Miami Dade College Kendall Gallery, 11011 SW 104 Street, Miami, FL, USA (Martin and Pat Fine Center for the Arts, Building M) map |
| Image | Joan Snyder, Postmardemgarden, 1995, oil, acrylic, paper mache on canvas, 66 x 72 inches, courtesy of Girl's Club |
| Links | Reviews of current exhibitions near this one |
| Share | Facebook, Twitter, Google+ |