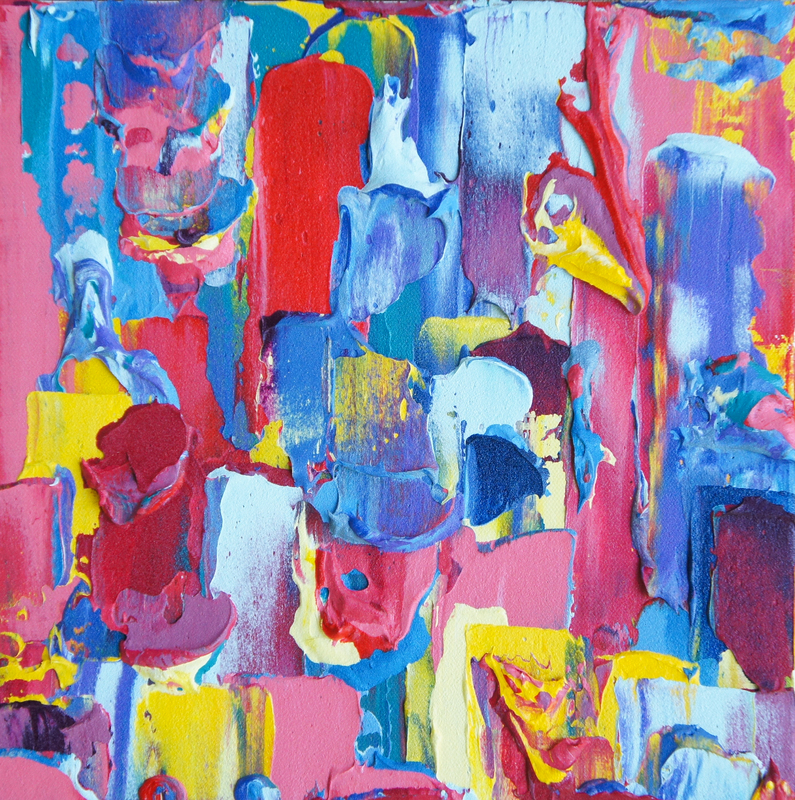 02 Aug 2017
Alison Palizzolo: Acrylic and Stucco
Dartmouth-Hitchcock Medical Center
Reviewed by Susan B. Apel
Alison Palizzolo's exhibition is a series of abstract studies of colors in multiples - saturated, shaded, layered thickly upon themselves with a palette knife; no brush would survive. The paint, mixed with ceramic stucco, curls from the canvas like cake frosting, as though on a hot day it might ooze from its frame to the floor.
Like all worthy confections, they summon a frisson of guilt, as though even a single canvas were too much, too caloric, too sumptuous. The work is unapologetic and invites the viewer to embrace its (and maybe one's own inner) boldness. Bring it on, it says. To paraphrase Mark Twain, there are times when too much of a good thing may be barely enough.
Other pieces are vibrant but lighter. Palizzolo traded the palette knife for acrylic spray paints to produce her largest creations. The Pale Blue Dot might convey the potential unity of all of those on earth, or perhaps their shared loneliness.
| | |
| --- | --- |
| Exhibition | Alison Palizzolo: Acrylic and Stucco |
| Start date | 20 Jul 2017 |
| End date | 29 Sep 2017 |
| Presenter | Dartmouth-Hitchcock Medical Center link |
| Venue | 1 Medical Center Drive, Lebanon, NH, USA map |
| Image | Alison Palizzolo, Here Comes the Sun, 2017, acrylic and ceramic stucco on canvas, 36 x 36 inches, courtesy of Susan B. Apel |
| Links | Reviews of current exhibitions near this one |
| Share | Facebook, Twitter, Google+ |