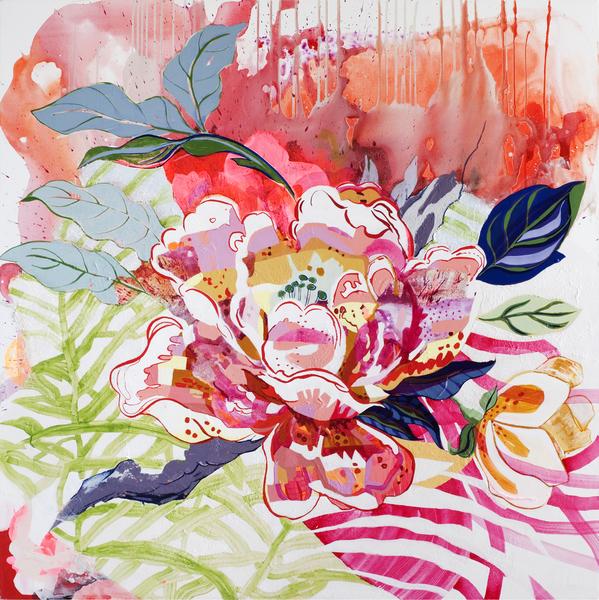 03 Nov 2016
Elisabeth Condon: Bird and Flower
Lesley Heller Gallery
Reviewed by Franklin Einspruch
Elisabeth Condon has long been a visual gourmand and her appetites only ever increase. Her latest work at Lesley Heller shows her incorporating wallpaper patterns into a stock of tropes that already included Chinese scroll paintings, botanical diagrams, gestural abstraction, discotheque lighting, and divers borrowings from the whole world's history of landscapes.
The results are wondrous. American Pastoral (2016, acrylic, latex, glitter on linen) is a flower study, stylistically exploded into its component parts of color, texture, and shape. Leaves of teal and indigo extend away from it like shrapnel. The background is stains of vermilion and fluorescent orange, dripping vertiginously upwards.
Valéry noted that Morisot's "every phase, every moment was not so much shared with art as imbued with it, as though indistinguishable from the urge to see and the instinct to catch the bloom on what is seen." Likewise Condon in her temperament, at once studious and buoyant.
| | |
| --- | --- |
| Exhibition | Elisabeth Condon: Bird and Flower link |
| Start date | 07 Sep 2016 |
| End date | 16 Oct 2016 |
| Presenter | Lesley Heller Gallery link |
| Venue | 54 Orchard Street, New York City, NY, USA (between Grand and Hester streets) map |
| Image | Elisabeth Condon, American Pastoral, 2016, acrylic, latex, and glitter on linen, 59 x 59 inches, courtesy of Lesley Heller Workspace |
| Links | Reviews of current exhibitions near this one |
| Share | Facebook, Twitter, Google+ |