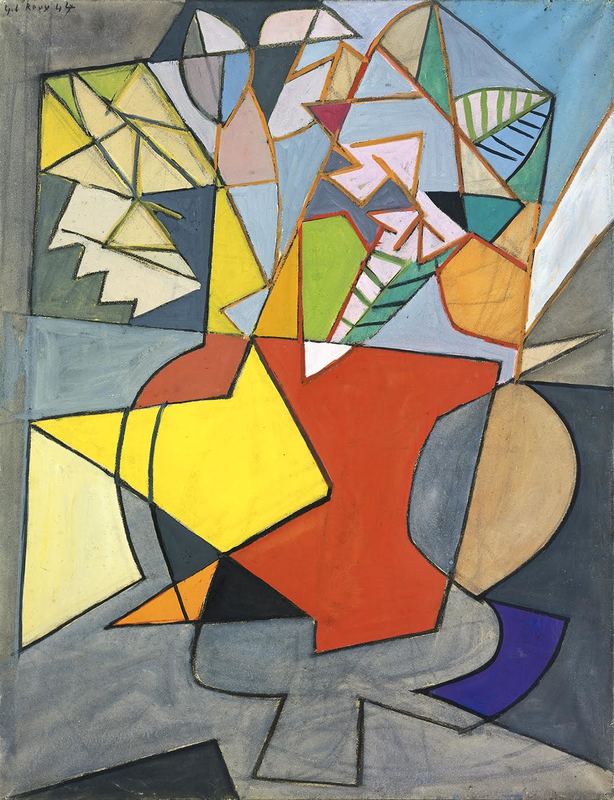 13 Sep 2017
Gaston-Louis Roux and Avant-Gardism
Tobacco Museum
Reviewed by Vera Wilde
Gaston-Louis Roux's commanding impatience earned him a rightful place among leading 20th-century avant-garde painters including Picasso and Max Ernst. Veering from Cubism (Composition, 1930) to Expressionism (Le duel, 1936), Roux's best work wows with vivid colors and motion. He also bridges these modernisms with measured color and blocky composition in Les tulipes (1938).
Later, he commands primary colors and simplified shapes (Jeune fillet au bouquet, 1947). He dips into Surrealism (La jeune fille au diabolo, 1930) and then Art Brut (Mes enfants a l'aube, 1947). His strongest lines invoke Picasso (Les jeux du cirque, 1947). Stylistically, this looks like a group show.
Like many pioneers who push boundaries - theirs and others' - Roux's hunger undermined the career it had advanced. The same man who masterfully combined the best of various modernisms subsequently alienated his dealer by returning to realism. Did his own vision crystallize there at last? The answer isn't on display.
| | |
| --- | --- |
| Exhibition | Gaston-Louis Roux and Avant-Gardism |
| Start date | 08 Jun 2017 |
| End date | 29 Oct 2017 |
| Presenter | Tobacco Museum link |
| Venue | Carrer Dr. Palau, 17, Sant Julià de Lòria, AND map |
| Image | Gaston-Louis Roux, Guitariste, 1944, pastel on paper, 65 x 50 cm, private collection, courtesy of the Museum of Tobacco |
| Links | Reviews of current exhibitions near this one |
| Share | Facebook, Twitter, Google+ |