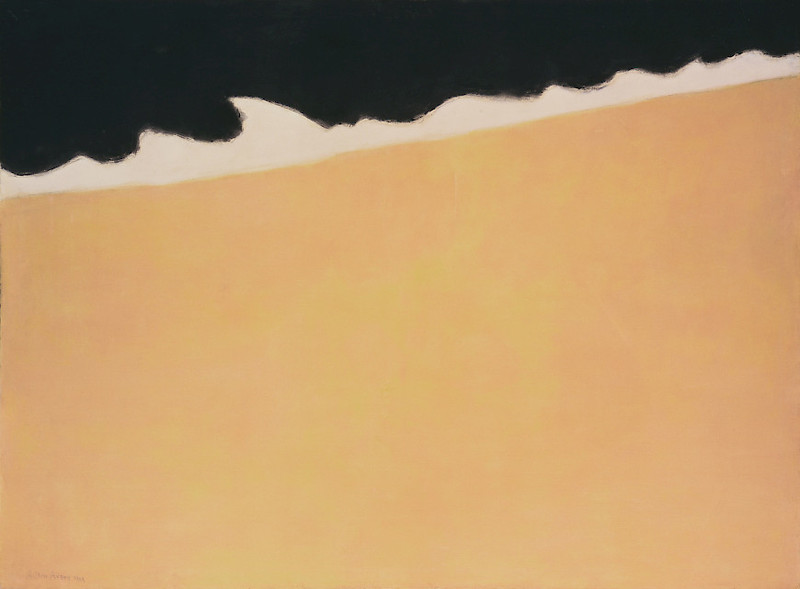 29 Sep 2017
From Hopper to Rothko: America's Road to Modern Art
Museum Barberini
Reviewed by Vera Wilde
Light flows from grand space in this showcase of North American modern art from the Gilded Age through the mid-20th century. The skies' and shores' wild expanses inspire uniquely sweeping landscapes.
Yet European influence runs throughout. Ryder's Moonlit Cove (1880) recalls Munch's moody poignancy. Twachtman's My Summer Studio (c. 1900) bursts with color, straddling the Impressionist-Expressionist divide. His Emerald Pool (c. 1895) prefigures O'Keeffe's tightly composed, unfolding flowers. Bischoff also innovates by combining realist and expressionist elements (Figures: Back and Profile, 1960).
Tradition, faith, and reclusion counterbalance innovation, angst, and dialogue. Bellows studied cubism, but paints like an old master (Emma at a Window, 1920). Sunlight conquers Manhattan's dark, Great Depression clouds (Edward Bruce, Power, c. 1933). Church is no social group, but an unpopulated desert hut (O'Keeffe, Ranchos Church, No. II, NM, 1929).
| | |
| --- | --- |
| Exhibition | From Hopper to Rothko: America's Road to Modern Art link |
| Start date | 17 Jun 2017 |
| End date | 03 Oct 2017 |
| Presenter | Museum Barberini link |
| Venue | Humboldtstraße 5–6, Potsdam, DEU map |
| Image | Milton Avery, Black Sea, 1959, The Phillips Collection, Washington, D.C., © VG BILD-KUNST, Bonn 2017, courtesy of the Museum Barbarini |
| Links | Reviews of current exhibitions near this one |
| Share | Facebook, Twitter, Google+ |