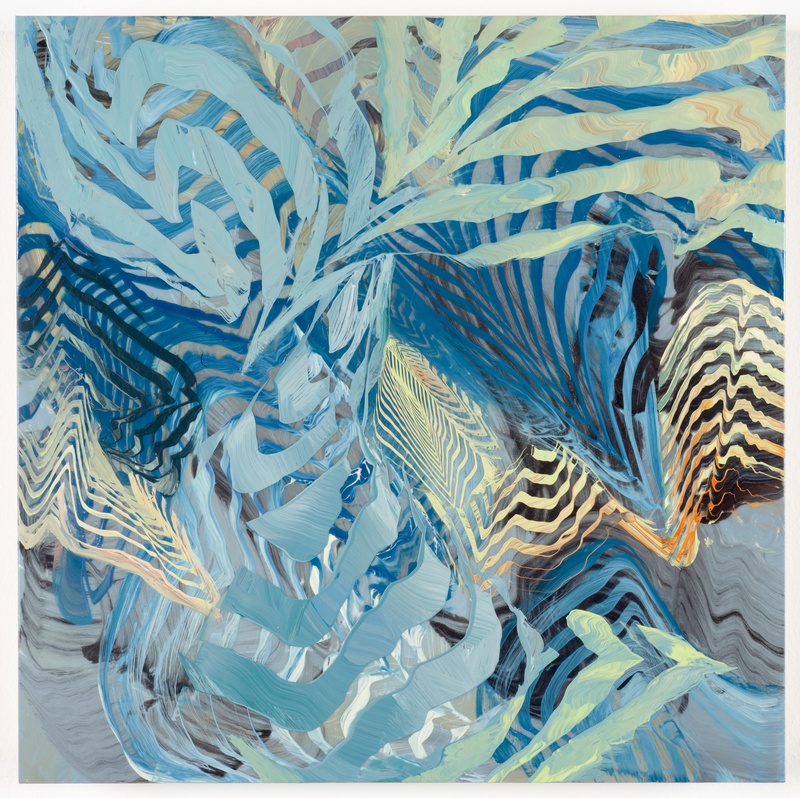 13 Apr 2017
Made in Paint
Sam and Adele Golden Gallery
Reviewed by Ashley Norwood Cooper
Produced by 2016 artist residents at the Sam and Adele Golden Foundation, the paintings in "Made in Paint" remind viewers of the intimate relationship between artists and their materials.
Celia Johnson explores the way that simple geometric shapes move about within the edges of the rectangle. While the shapes are pushed and pulled by their relationship to the edges of the panels, the flat colors, at various levels of saturation, cause them to float above and recede beneath the picture plane.
In deeply layered paintings, Lorene Anderson unveils a mysterious, shape-shifting world through the process of pouring, brushing, and scraping away acrylic paint.
Mark Flowers' linked-together panels have the added-on feeling of old shacks in the North Carolina mountains where he lives. He juxtaposes layered abstractions with images to produce paintings that whisper the secrets of strangers.
The broad range of the work demonstrates the endless possibility that paint engenders.
Exhibition
Made in Paint
Start date
08 Apr 2017
End date
28 Jul 2017
Presenter
Sam and Adele Golden Gallery link
Venue
188 Bell Road, New Berlin, NY, USA map
Image
Lorene Anderson, Weave, 2016, acrylic on panel, 16 x 16 inches, courtesy of the Sam & Adele Golden Gallery
Links

Reviews of current exhibitions near this one

Reviews by Ashley Norwood Cooper

Share
Facebook, Twitter, Google+