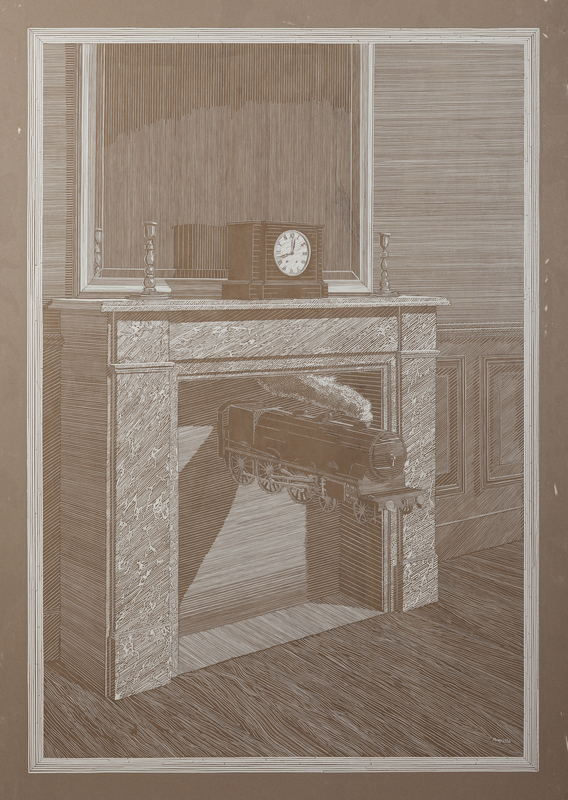 28 Nov 2017
Pavel Acosta: New Paintings and Works on Paper
Bernice Steinbaum Gallery
Reviewed by Elisa Turner
Pavel Acosta's superb training as a printmaker in his native Cuba continues to dazzle. The works on paper are made with white ink and brown pigment. He creates paintings by scraping chips of drywall paint from Sheetrock panels, and then reapplying them. His sense of line and space makes it tough at first to distinguish between the two.
All are remarkable recreations of art history icons, from Leonardo's Mona Lisa to Munch's The Scream. Yet the masterworks' colors are drained from Acosta's versions, with only ghostly, intricate textures remaining.
His signature Stolen series began in Cuba in response to meager art supplies and conditions. There he "stole" supplies by scraping paint from buildings and cars. Living in the U.S. since 2010, he visits masterworks he once knew only by reproduction and now "steals" their essence. After Time Transfixed by Rene Magritte (1938) (2017) brilliantly mirrors Magritte's detailed, eye-fooling effects.
| | |
| --- | --- |
| Exhibition | Pavel Acosta: New Paintings and Works on Paper |
| Start date | 28 Oct 2017 |
| End date | 11 Dec 2017 |
| Presenter | Bernice Steinbaum Gallery link |
| Venue | 2101 Tigertail Avenue, Coconut Grove, FL, USA map |
| Image | Pavel Acosta, After Time Transfixed by Rene Magritte (1938), from the series Stolen from The Art Institute of Chicago, 2017, drywall, paint on sheetrock, 58 7/8 x 38 7/8 inches, courtesy of Bernice Steinbaum Gallery |
| Links | Reviews of current exhibitions near this one |
| Share | Facebook, Twitter, Google+ |