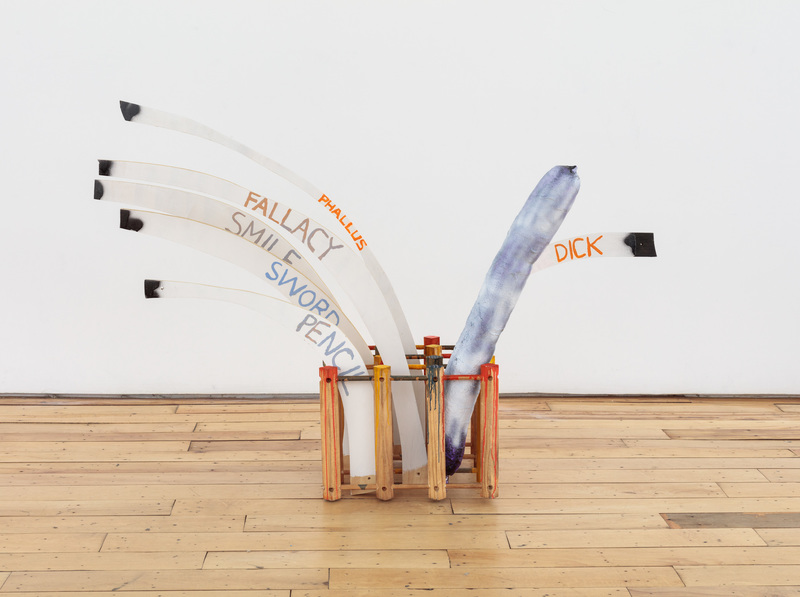 06 Dec 2017
Molly Zuckerman-Hartung: Learning Artist
Rachel Uffner Gallery
Reviewed by Elizabeth Johnson
Check your dick at the door of Molly Zuckerman-Hartung's show, "Learning Artist." Dick Box (2017) files curved wooden sticks sporting words: dick, fallacy, phallus, sword, pencil, smile. Women are often told to smile, but dicks also bend. Wouldn't it be convenient to lose the fallacy of your own self-regard, in the rack among hockey sticks and umbrellas?
Exercise I through Exercise IX (2017) curb expectation and draw attention down. Studio scraps lay atop cardboard boxes between Rococo extension cords and lamps placed on the floor. Escaping iconicism, abstract shapes progress slowly as mutable forms.
Gem-toned dyed and sewn fabric pieces blaze with depths that would make Joan Mitchell's mouth water, and small lusty nuggets dimensionally analyze Howard Hodgkin.
Hi-Lo (2017) is the key to "Learning Artist," as it links a pair of low-placed baby toy handles by ladder steps to overhead studio ephemera, thus making a fresh, egoless start the root of productive ambition.