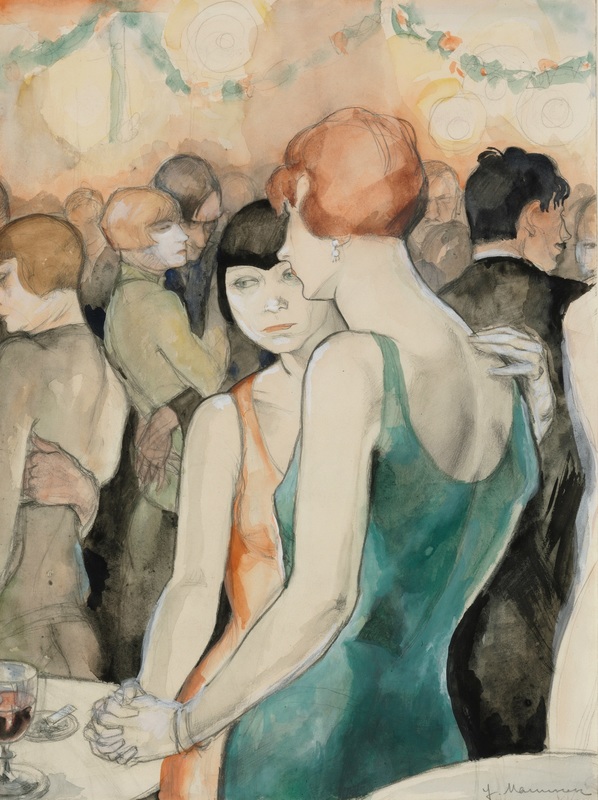 12 Dec 2017
Jeanne Mammen: The Observer, Retrospective 1910-1975
Berlinische Galerie
Reviewed by Vera Wilde
Why would a female artist making the highest quality drawings, paintings, sculptures, collages, and more in 20th-century Berlin fail to attain the status of her male peers? The caliber and range of Mammen's oeuvre raise the question. Perhaps it is because she celebrated the beauty of being alone, as in Palma Kunkle - Great Wall of China (1967-9).
Despite a yen for privacy that led to her withdrawal from the art world, Mammen illustrated lesbian love, from the erotic to the conflicted. She also critiqued rising Nazism in Germany and poverty in Moscow with a pen in turns joking and stark. With her signature melding of light and dark, she abstracted a cartoonish wolf drawing atop a stock exchange report into powerful painting (Wolf, 1939-42).
Mammen's mastery of composition and limited color palette enhance creativity with constraint. But her content is queen, probing women's roles in society along with the subjects of fairness, intimacy, and religious experience.
| | |
| --- | --- |
| Exhibition | Jeanne Mammen: The Observer, Retrospective 1910-1975 link |
| Start date | 06 Oct 2017 |
| End date | 15 Jan 2018 |
| Presenter | Berlinische Galerie link |
| Venue | Alte Jakobstraße 124-128, Berlin, DEU map |
| Image | Jeanne Mammen, Two Women Dancing, c. 1928, private collection, Berlin, © VG Bild-Kunst Bonn, 2017 |
| Links | Reviews of current exhibitions near this one |
| Share | Facebook, Twitter, Google+ |