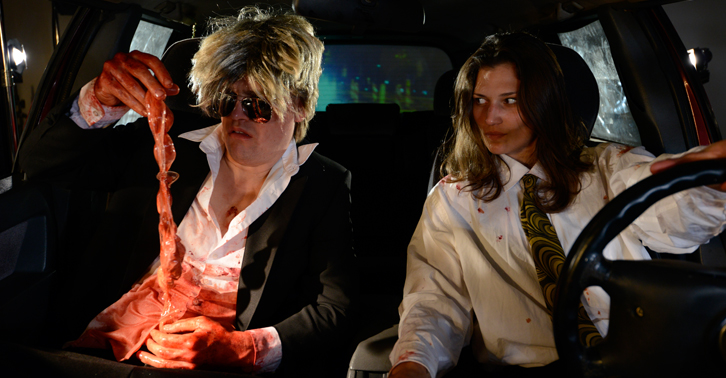 19 Apr 2017
John Bock: In the Moloch of the Presence of Being
Berlinische Galerie
Reviewed by Vera Wilde
John Bock wants to disgust you. He will use cages, egg shells, empty jars, and bones. If you let him, by stepping inside a cylindrical tent of fabric, he will blow on you through piping marked Riechnippel (ripples), attached to a television screen filled with a face and graced with speakers on either side like awkwardly large ears. But the smell will be sweet.
Such puzzlement is a primary goal. Moloch is a grotesque Australian lizard, and a Canaanite god associated with child sacrifice. Neither theme applies, only the metaphorical invocation of the repulsive and obscure. Sawed-up wood and wooden sculpture lie in suitcases. Art brut dolls cling to floral and plaid fabrics.
A plastic disposable coffee lid breathes up off the floor in sync with a bag hanging above, disconnected, in neon lighting. It exists as a being, not a thing. In the presence of its oddity, life itself seems strange. Videos roll, uninviting: disgust and muddle are manipulations, not messages.
| | |
| --- | --- |
| Exhibition | John Bock: In the Moloch of the Presence of Being link |
| Start date | 24 Feb 2017 |
| End date | 21 Aug 2017 |
| Presenter | Berlinische Galerie link |
| Venue | Alte Jakobstraße 124-128, Berlin, DEU map |
| Image | John Bock, Escape, 2013, video, 7:30 minutes, © John Bock, courtesy Sprüth Magers, Anton Kern Gallery / Gió Marconi Gallery / Regen, Projects / Sadie Coles HQ, photo David Schultz, courtesy of the Berlinische Galerie |
| Links | Reviews of current exhibitions near this one |
| Share | Facebook, Twitter, Google+ |