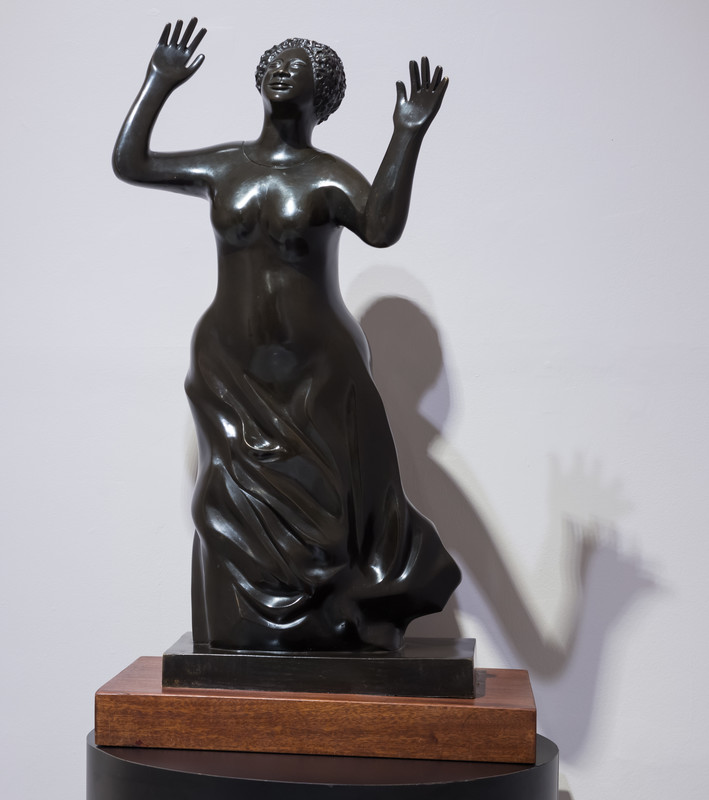 05 Jan 2018
Elizabeth Catlett: Wake Up in Glory
Burning in Water
Reviewed by Franklin Einspruch
A lot of socially-minded artists who came up in the 1930s and '40s worked in a common style of figurative modernism that to my knowledge has not been given a particular term. It is recognizable by its heavy geometry. Limbs are tubes. Planar noses jut from under almond eyes. The style lends itself to portrayals of the gesticulating everyman, demographically adjustable as needed.
While short on masterpieces, it did produce its own masters. One of them, Elizabeth Catlett, is notable for having achieved as much success as any of them despite having to endure galling slights as a black woman. Her biography is fascinating, a trip that leads from Grant Wood to the Taller de Gráfica Popular.
The Catlett show at Burning in Water is heavy on sculpture, including a delightful rendition of Mahalia Jackson cast when the artist was 95. Her arms and face are lifted heavenward. She takes in a wind of inspiration that ripples her long skirt, readying herself to sing praise to the Lord.
| | |
| --- | --- |
| Exhibition | Elizabeth Catlett: Wake Up in Glory link |
| Start date | 28 Nov 2017 |
| End date | 03 Feb 2017 |
| Presenter | Burning in Water link |
| Venue | 317 10th Avenue, New York City, NY, USA map |
| Image | Elizabeth Catlett, Mahalia Jackson, New Orleans, 2010, bronze, courtesy of Burning in Water |
| Links | Reviews of current exhibitions near this one |
| Share | Facebook, Twitter, Google+ |