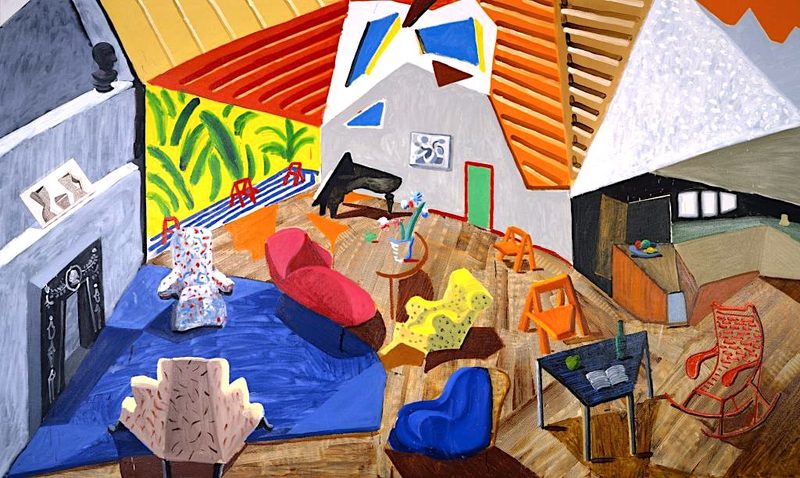 23 Feb 2018
David Hockney
Metropolitan Museum of Art
Reviewed by Harry Newman
This inspiring retrospective of David Hockney has all the greatest hits - A Bigger Splash (1967), Portrait of an Artist (Pool with Two Figures) (1972), the famed and vaguely disturbing double portraits from the 1970s, and more - but it's the lesser known work that really comes alive, showing Hockney to be not only a painter of light and color, but one of questing intelligence and expanding visual sophistication.
Most surprising are the rarely shown early works, made while still a student, that brought immediate success in early 1960s in London. Large mixed-media pieces, mostly black, gray, and brown, incorporating abstract figures, poetry, and graffiti, overtly depict gay life. In their energy and boldness, they prefigure the work of Basquiat more than two decades later.
Other highlights are Large Interior, Los Angeles (1988), which slyly nods to Matisse, revealed by the show as a primary influence throughout his work, and the almost psychedelic landscapes of the 2000s.
| | |
| --- | --- |
| Exhibition | David Hockney link |
| Start date | 27 Nov 2017 |
| End date | 25 Feb 2018 |
| Presenter | Metropolitan Museum of Art link |
| Venue | 1000 Fifth Avenue, New York City, NY, USA (at 82nd Street) link map |
| Image | David Hockney, Large Interior, Los Angeles, 1988, oil, ink on cut-and-pasted paper on canvas, 72 1/4 × 120 1/4 inches, The Metropolitan Museum of Art, purchase, Natasha Gelman Gift, in honor of William S. Lieberman, 1989 |
| Links | Reviews of current exhibitions near this one |
| Share | Facebook, Twitter, Google+ |