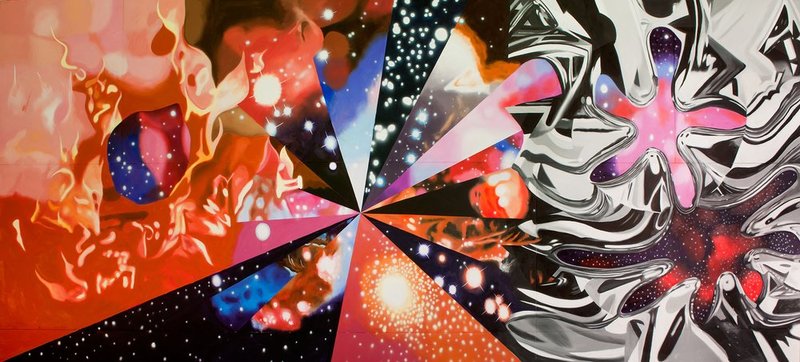 02 Mar 2018
James Rosenquist: Painting as Immersion
Museum Ludwig
Reviewed by Vera Wilde
With a Romantic combination of existential severity and child-like playfulness, Rosenquist celebrates the creation of meaning and the destruction of dissatisfaction and death in Through the Eye of the Needle to the Anvil (1988). That ludic strain carries his preparatory works and their finished counterparts, particularly Source for Rainbow and Rainbow (both 1961).
An underlying slant, unpedantic yet critical, makes his vision - which might otherwise be scorned as marketing - endure as art. In this, his work prefigures Internet memes by remixing popular images, for example, of JFK, in service of his own messages.
More subtly than heirs like Banksy, Rosenquist calls out the sinister nature of WASP romance (Hey! Let's Go for a Ride, 1972) and the American Dream (I Love You with My Ford, 1961). More immersively than contemporary Pop Art pioneers like Warhol, he shows how we are all walking through this house of mirrors together, but alone.
| | |
| --- | --- |
| Exhibition | James Rosenquist: Painting as Immersion link |
| Start date | 18 Nov 2017 |
| End date | 04 Mar 2018 |
| Presenter | Museum Ludwig link |
| Venue | Hein­rich-Böll-Platz, Köln, DEU map |
| Image | James Rosenquist, The Stowaway Peers Out at the Speed of Light, 2000, oil on canvas, 520.7 × 1402.1 cm, estate of James Rosenquist, © Estate of James Rosenquist/VG Bild-Kunst, Bonn 2017, photo courtesy of the Estate of James Rosenquist |
| Links | Reviews of current exhibitions near this one |
| Share | Facebook, Twitter, Google+ |