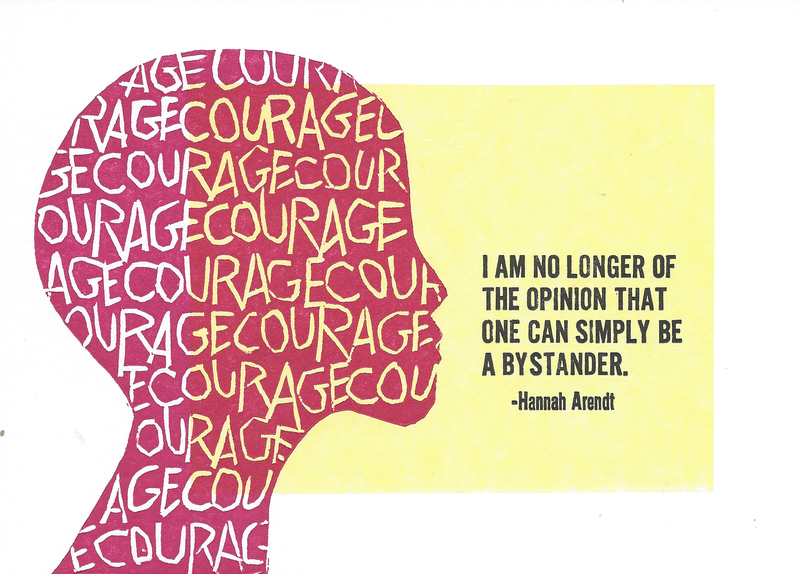 23 Mar 2018
Melanie Mowinski: The 50 Card Project
MCLA Gallery 51
Reviewed by Heather Kapplow
Melanie Mowinksi's fifty letter-pressed postcards, bearing quotes from historical, literary, religious, and musical sources, were each inspired by a successive week's news beginning with that of Trump's 2017 inauguration.
The quotes and imagery are relatively upbeat, but the wall annotations drive home just how much insanity we have survived since then. And not just political insanity - weather and social trauma play a role in Mowinski's weekly responses too. Emma Goldman's words, "The most violent element in society is Ignorance," accompany an expanding red-sun shape, and map to Week 22, when news of the year's 154th US mass shooting broke.
Her humble notecards run colorfully around the room's walls, but apparently around Washington, D.C. as well. Mowinski mailed them to "key players" there each week since she began, leaving one to wonder whether someone in Trump's cabinet or Elizabeth Warren's office is collecting a portfolio of handmade, limited edition micro-protest pieces.
| | |
| --- | --- |
| Exhibition | Melanie Mowinski: The 50 Card Project link |
| Start date | 25 Jan 2018 |
| End date | 24 Mar 2018 |
| Presenter | MCLA Gallery 51 link |
| Venue | 51 Main Street, North Adams, MA, USA map |
| Image | Melanie Mowinksi, Courage, Hannah Arendt, 2017, linocut and handset letterpress type, 5 x 7 inches, courtesy of the artist |
| Links | Reviews of current exhibitions near this one |
| Share | Facebook, Twitter, Google+ |