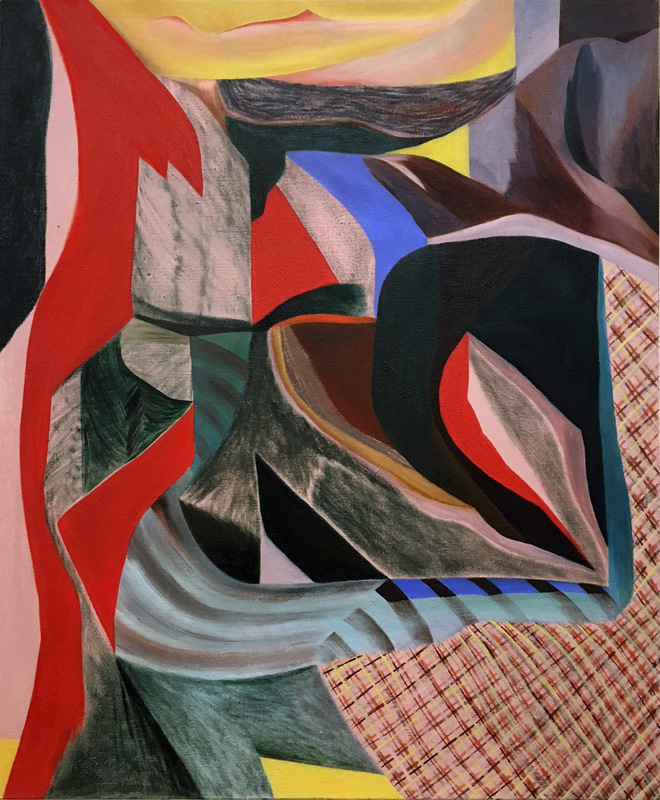 20 Apr 2018
Lucy Mink
Barney Savage Gallery
Reviewed by Suzanne Unrein
Lucy Mink's paintings hide meaning in architectural playgrounds. Crowded arrangements of forms move you inwardly through the composition while your mind attempts recognition of individual parts. Textile patterns tame nature and offer fragments of homeyness to the rabbit hole of warping perspective.
On Top of It (2018) is an expert's game of color and arrangement. A subdued yet vibrant red, shaped like Matisse cutouts, weaves confidently through patterned planes and remnants of construction. The space is seen from above, a staircase leading internally, with the open landscape far away. Like all of Mink's paintings, there is a specific mood here, a feeling that memory and psychological schisms are in play. Multiple thoughts and ideas simultaneously vie for space – integrating and competing, overlapping and maneuvering.
Titles like Talking, If You Want It and Fall In nudge at hidden connections to these visual mysteries.
| | |
| --- | --- |
| Exhibition | Lucy Mink |
| Start date | 30 Mar 2018 |
| End date | 29 Apr 2018 |
| Presenter | Barney Savage Gallery link |
| Venue | 87 Franklin Street, New York City, NY, USA (between Chruch and Broadway) map |
| Image | Lucy Mink, On Top of It, 2018, oil on linen, 24 x 20 inches, courtesy of Barney Savage Gallery |
| Links | Reviews of current exhibitions near this one |
| Share | Facebook, Twitter, Google+ |