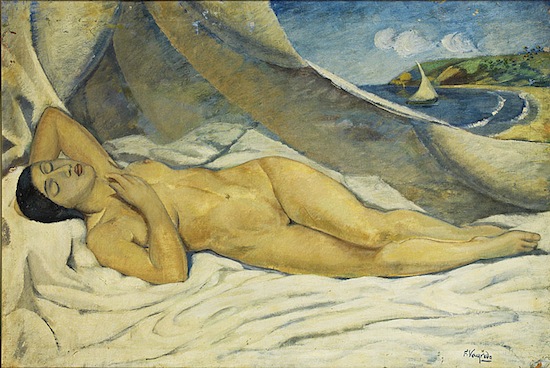 06 May 2018
Mediterranean: An Arcadia Reinvented, From Signac to Picasso
Museo Carmen Thyssen Málaga
Reviewed by Vera Wilde
Content as well as technical skill in form, composition, and color recall antiquity in this showcase of European Mediterranean art from the late 1800s to the mid-1900s. As part of the Picasso-Méditerranée project, the exhibit features drawings, paintings, and objects that exemplify these continuities of classicism.
Yet the new classicism of fin de siècle Mediterranean art departs from previous iterations. Artists develop distinct voices instead of emulating. Modern technology makes its mark in Picasso's Bathers Watching an Aeroplane (1920). Representations of sensual, immodest young women, such as the bather in Nude on the Beach (c. 1917) by Francesc Vayreda, are not your grandmother's Kore.
Still, as demonstrated in The Abyss, Mallorca (c. 1901-4) by Joaquin Mir Trixnet, even the vaguest abstractions of this early modernism maintain their mooring in the natural world. Form remains representation. Emotion and expressiveness come second to place, object, and genre.