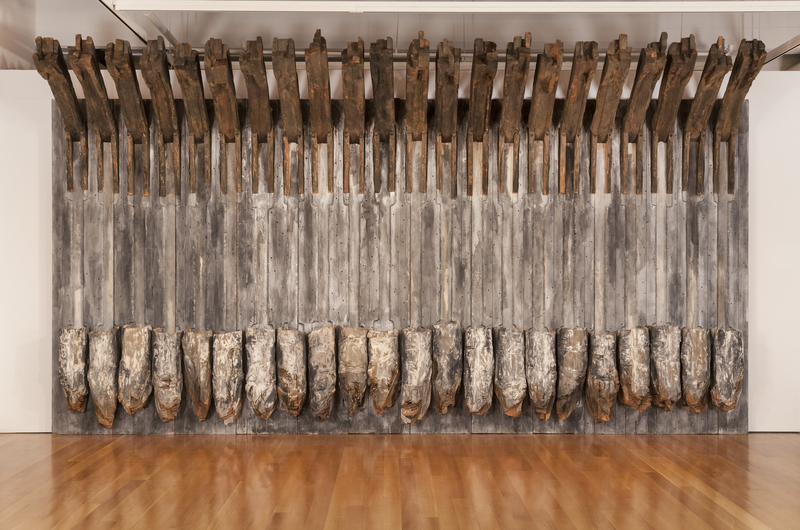 07 May 2018
Ursula von Rydingsvard: The Contour of Feeling
Fabric Workshop and Museum
Reviewed by Jan Castro
The soft, curving sides of Ocean Voices, the tipsy, rippling Ocean Floor, and a few delicate silk and paper-pulp works express Ursula von Rydingsvard's gentler side, as her mega-ton cedar shapes fill three floors at The Fabric Workshop and Museum.
"The Contour of Feeling" invites viewers to take in Zakopane, a 138-inch high, wall-sized, roughly hewn symphony of cedar bins. Echo and Sunken Shadow, individualized male and female shovels over twelve feet high, could be side-by-side vertical coffin lids. The male has a larger frame and square shoulders in contrast to the female's slouch and footprints on its surface.
In PODERWAC (tearing apart), blue tape maps the body of a giant leather jacket, sewn from 150 vintage ones, as its armless sleeves trail on the ground. Cos and Krypta I, larger-than-human cedar sculptures with deep grooves and sharp ridges, express wounds, anger, and collective sorrow. This retrospective captures both protective spirits and phantoms of angst.
| | |
| --- | --- |
| Exhibition | Ursula von Rydingsvard: The Contour of Feeling link |
| Start date | 27 Apr 2018 |
| End date | 26 Aug 2018 |
| Presenter | Fabric Workshop and Museum link |
| Venue | 1214 Arch Street, Philadelphia, PA, USA map |
| Image | Ursula von Rydingsvard, Zakopane, 1987, cedar, paint, 11.5 x 22 x 3 feet, courtesy of Ursula von Rydingsvard and Galerie Lelong & Co., New York |
| Links | Reviews of current exhibitions near this one |
| Share | Facebook, Twitter, Google+ |