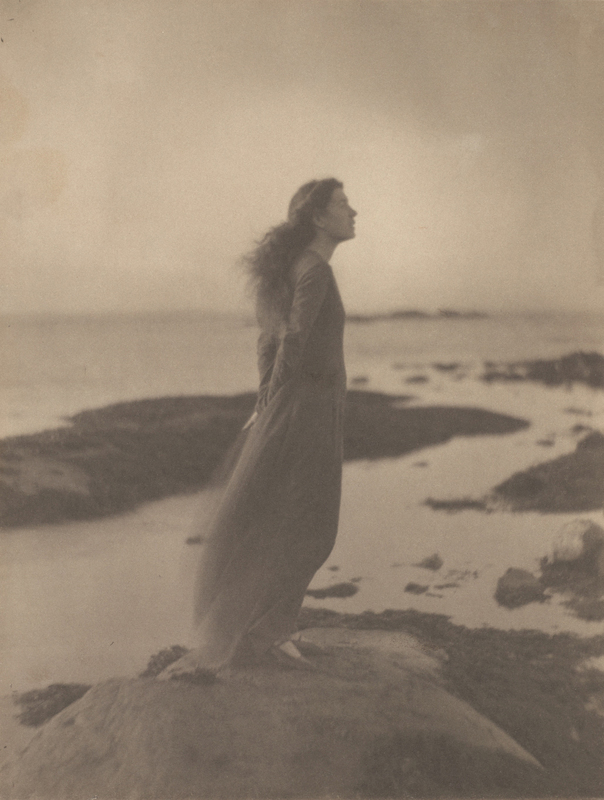 11 May 2018
Clarence H. White and His World: The Art and Craft of Photography 1895-1925
Davis Museum, Wellesley College
Reviewed by Franklin Einspruch
This thorough exhibition of Clarence White and associated figures handsomely displays seminal photographic works. While his sense of invention was confined largely to technical matters, White was a master of them, with due influence.
His is an unusual case of a politically progressive, aesthetically conservative artist. He produced a series of portraits of early American socialists that were informed, like the rest of his work, by Tonalism. Thus a 1909 palladium print shows Rose Pastor Stokes in a flowing dress on the shoreline, standing in profile with her mouth agape and her hair blown back, as if she has just wandered out of a Maxfield Parrish illustration.
Lacking a single modernist bone in his body and felled by a heart attack at 54, it was left to his reverent students to unmoor from Thomas Dewing and Utamaro and chase down the inherent possibilities of the medium. A striking still life of cheese and crackers from 1922 by Paul Outerbridge indicates what was to come.
| | |
| --- | --- |
| Exhibition | Clarence H. White and His World: The Art and Craft of Photography 1895-1925 link |
| Start date | 13 Feb 2018 |
| End date | 03 Jun 2018 |
| Presenter | Davis Museum link |
| Venue | Wellesley College, 106 Central Street, Wellesley, MA, USA map |
| Image | Clarence H. White, American, 1871–1925, The Sea [Rose Pastor Stokes, Caritas Island, Connecticut], 1909, printed after 1917, palladium print, the Clarence H. White Collection, assembled and organized by Professor Clarence H. White Jr., and given in memory of Lewis F. White, Dr. Maynard P. White Sr., and Clarence H. White Jr., the sons of Clarence H. White Sr. and Jane Felix White |
| Links | Reviews of current exhibitions near this one |
| Share | Facebook, Twitter, Google+ |