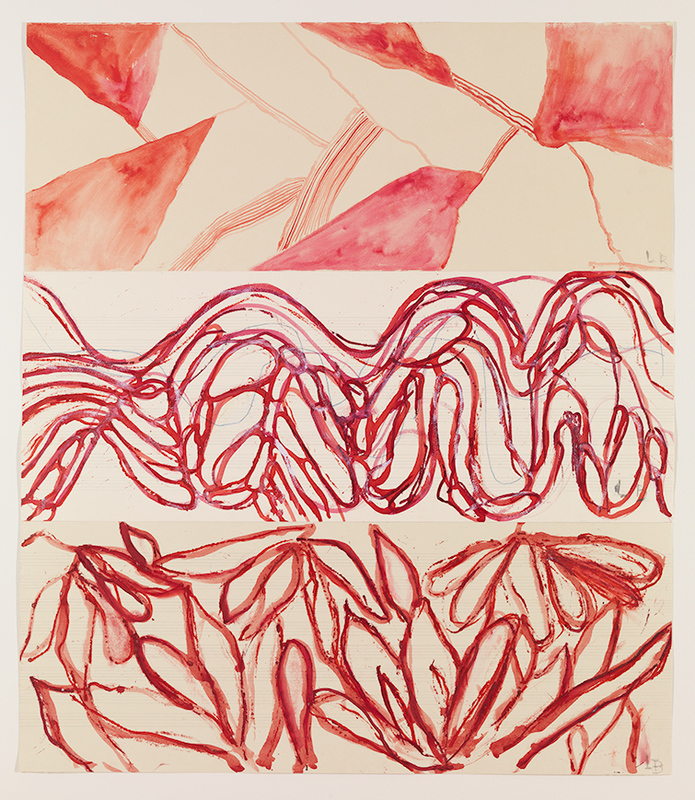 13 May 2018
Louise Bourgeois: The Red Sky
Hauser & Wirth
Reviewed by Lani Asher
Titles from works in "The Red Sky," an exhibition of the legendary Louise Bourgeois, help illuminate her life's tangled web: This Fear Inside you!, Have a Little Courage, What Hurts. These emotionally charged paintings and drawings, completed shortly before her death in 2010, fill two rooms at Hauser & Wirth Los Angeles. The titular work from 2009 has the words "red sky" roughly painted over pencil and finely etched lines with transparent, blood-red washes on paper.
The central panel of This Need (2007) reads "I cannot help the need in the morning stronger than hunger or thirst." In Euphoria (2008), drawings of oversized amoebas capture tiny bubbles, alongside the words egg, Cartesian diver (a toy that demonstrates the principle of buoyancy), and euphoria.
She weaves her bloody sunsets, microscopic visions, and revealing internal monologues into a beautiful but painful show. But still Bourgeois manages to gently float on the surface, a Cartesian diver.
| | |
| --- | --- |
| Exhibition | Louise Bourgeois: The Red Sky link |
| Start date | 17 Feb 2018 |
| End date | 20 May 2018 |
| Presenter | Hauser & Wirth link |
| Venue | 901 East 3rd Street, Los Angeles, CA, USA map |
| Image | Louise Bourgeois, The Red Sky (detail), 2009, watercolor, ink, gouache, pencil, colored pencil, and etching on paper, 11 panels, © The Easton Foundation/VAGA, NY, courtesy Hauser & Wirth, photo: Ben Shiff |
| Links | Reviews of current exhibitions near this one |
| Share | Facebook, Twitter, Google+ |