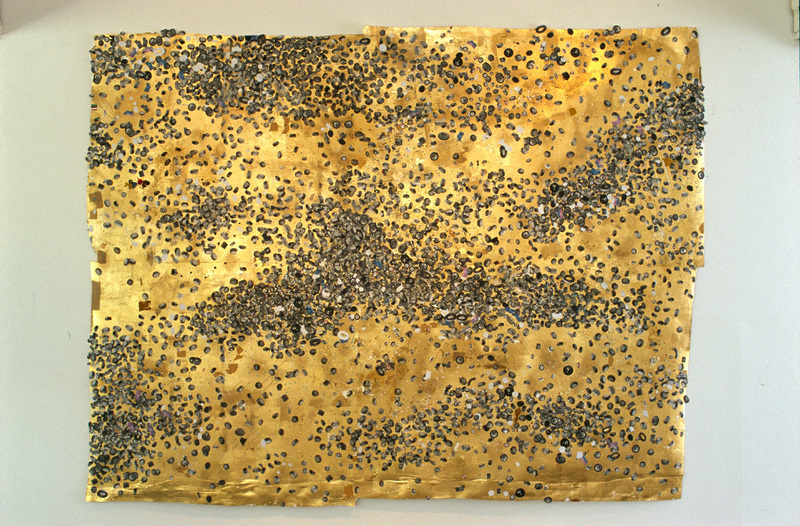 25 Jun 2018
william cordova now's the time: narratives of southern alchemy
Pérez Art Museum Miami
Reviewed by Elisa Turner
Making the most of a minimalist aesthetic, william cordova freights every surface and mark with the metaphoric abundance of haiku. The decision to abandon upper case letters could seem childish and sloppy. But this humble format, he says, alludes to an interest in activist writer and poet bell hooks. cordova's simple typography speaks to his transgressive art.
Over sixty works from 1993 to 2018 are created with surprising materials and media: vinyl record jackets, Peruvian stones, correction fluid. His deep interests in music, architecture, cinema, and cultural histories intermingle to transform the recycled ordinary into rare treasures. Often but not always the intermingling yields poetic alchemy, altering ways to understand art's imaginative gifts.
daniel boone, pat boone y mary boone (2008) unfurls undulating streams of delicate drawings of tires, moving through layers of tough colonial history in art and industry. It maps an evolving terrain.
| | |
| --- | --- |
| Exhibition | william cordova now's the time: narratives of southern alchemy link |
| Start date | 27 Apr 2018 |
| End date | 07 Oct 2018 |
| Presenter | Pérez Art Museum Miami link |
| Venue | 1103 Biscayne Boulevard, Miami, FL, USA map |
| Image | william cordova, daniel boone, pat boone y mary boone (and firestone, pero los Olmecas venceran), 2008, gold leaf, paper collage, and spray enamel on reclaimed backdrop paper, 108 x 120 inches, Estrellita B. Brodsky Collection, © william cordova, Image courtesy of the artist |
| Links | Reviews of current exhibitions near this one |
| Share | Facebook, Twitter, Google+ |