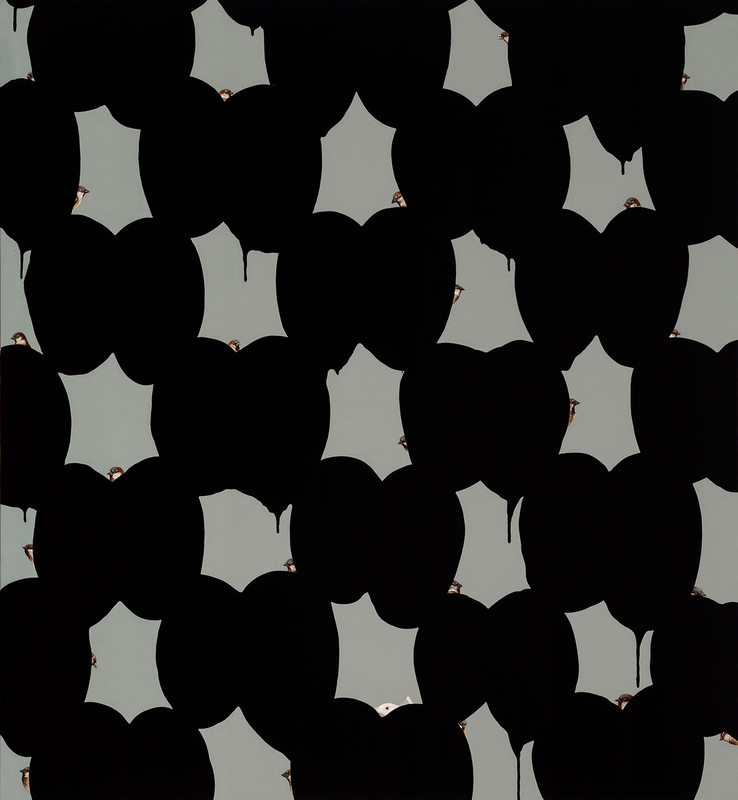 26 Jun 2018
Stieg Persson: Polyphonic
Ian Potter Museum of Art, University of Melbourne
Reviewed by Ranger Thomas
A full two floors of the Ian Potter Museum are installed with Stieg Persson's "Polyphonic," seventy-nine paintings, most of them large, with palettes mainly limited to black, white and gold.
There are strong figurative elements, fully painted, with themes such as death, food, biology, botany, and Swedish death metal. All are deftly rendered in a lighthearted, humorous manner, often belying the heavy subjects they contain.
Persson is above all an abstract painter, sapping powerful images of their meaning and incorporating them into tableaux of formal concerns. Motifs are repeated and reproduced by hand, decontextualizing them and depriving them of their identity. Motherwell's elegies come to mind in comparison, as nonfigurative paintings imbued with meaning. So do the works of Salle or Ruscha, where the images are somehow empty and abstract.
An exhibition of over thirty years of work, "Polyphonic" shows a detached but impressive pursuit of the postmodern project.
| | |
| --- | --- |
| Exhibition | Stieg Persson: Polyphonic link |
| Start date | 27 Mar 2018 |
| End date | 01 Jul 2018 |
| Presenter | Ian Potter Museum of Art link |
| Venue | University of Melbourne, Swanton Street, Parkville, AUS map |
| Image | Stieg Persson, Vair, 2017, oil on linen, 183 x 168 centimeters, photo by Christian Capurro, courtesy of the artist and Anna Schwartz Gallery |
| Links | Reviews of current exhibitions near this one |
| Share | Facebook, Twitter, Google+ |