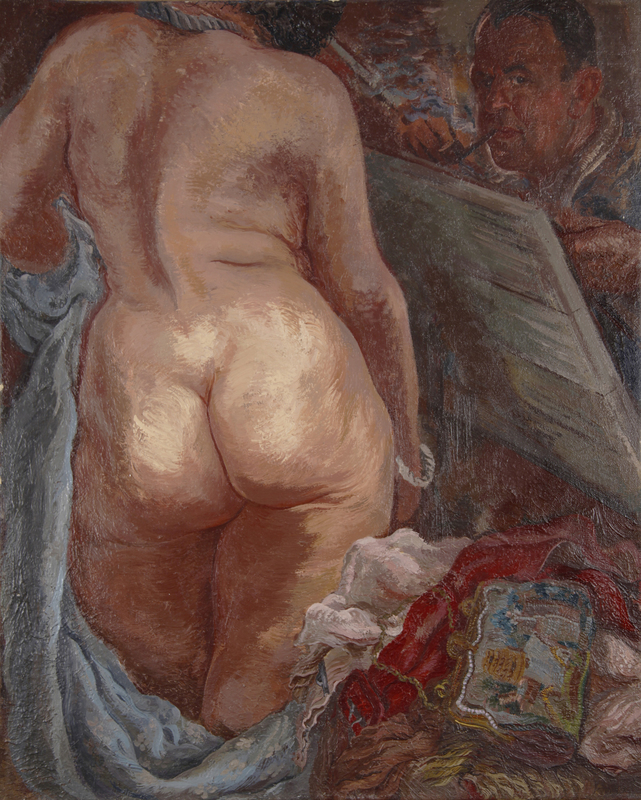 02 May 2017
Fleischeslust: George Grosz in dialogue with Rainer Fetting, Sven Marquardt, Xenia Hausner, Jörn Grothkopp
Galerie Deschler Berlin
Reviewed by Vera Wilde
Shading overlays lines where the model moved while sitting. The same softness suggests that another model might, or might not, hold a negligee. To her right, white lines trace the painter working a canvas - a self-portrait in motion.
Light, suggestion, and movement mark Grosz's American nudes. Often criticized as a decline from the political art of his Berlin period, they showcase cross-genre technique while embracing plump, joyful eroticism. Their pairing with contemporary interlocutors in this show topped Berlin Gallery Weekend.
The other artists suffer as foils, underscoring Grosz's skill in celebrating sex, pleasure, and bodies without appearing objectifying (Grothkpopp), harsh (Marquardt), or removed in representing women's interior lives (Hausner). Under his brush, a fat woman's cunt attracting flies as she bends over gardening stirs sympathy, humor, and desire at once. Rainer Fetting's Angelika (1993) rivals this richness.
| | |
| --- | --- |
| Exhibition | Fleischeslust: George Grosz in dialogue with Rainer Fetting, Sven Marquardt, Xenia Hausner, Jörn Grothkopp link |
| Start date | 21 Apr 2017 |
| End date | 08 Jul 2017 |
| Presenter | Galerie Deschler Berlin link |
| Venue | Auguststrasse 61, Berlin, DEU map |
| Image | George Grosz, Selbstportrait mit Akt, 1937, oil on canvas, 72 x 58 cm, courtesy of Galerie Deschler Berlin |
| Links | Reviews of current exhibitions near this one |
| Share | Facebook, Twitter, Google+ |