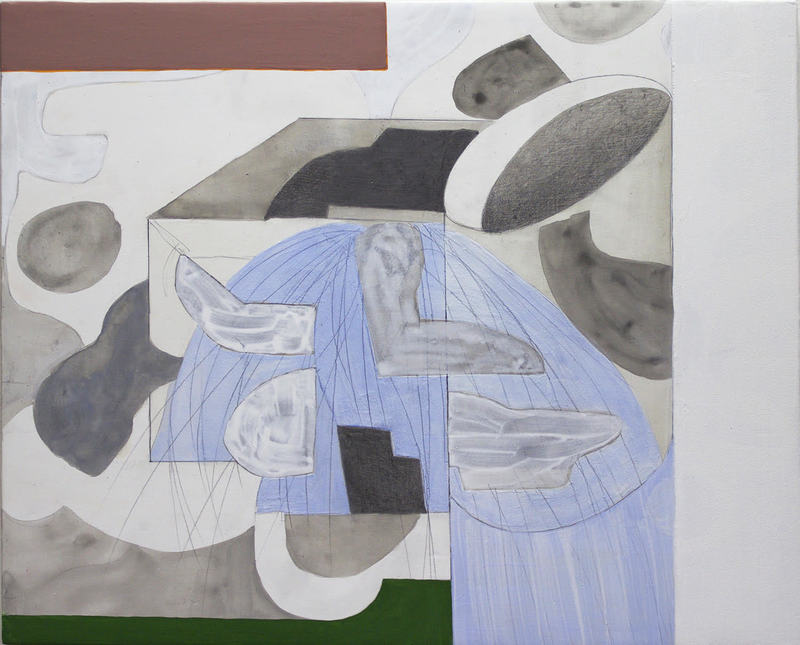 26 Jul 2018
Karin Wikstrom: Cube, tube, oblong, etc.
Don Soker Gallery
Reviewed by Lani Asher
"Cube, tube, oblong, etc." is the modest title of Karin Wikstrom's beautiful show at Don Soker Gallery. Her works function as an extended meditation. Turning the pages of a bound book of her gouaches is a mesmerizing experience. Small, vibrant paintings hang in the entry and sparkle like glass beads. Originally from Sweden, she makes art buoyed by a strong sense of craft.
In her Empty/Full and Shadow Pattern series, translucent, ghostly shapes of clouds, glaciers, waterfalls, and adobe buildings stand in contrast to the physicality of her canvases. She builds up layers of opaque white, blue, green, and ocher gouache over simple pencil drawings inspired by vintage catalogue illustrations.
Her work has a bold curiosity combined with the wabi-sabi beauty of faded paint on old industrial buildings or weathered rocks. There is a tentative, unfinished quality in her work that risks failure. But the results are paintings that exude light and spirit.
| | |
| --- | --- |
| Exhibition | Karin Wikstrom: Cube, tube, oblong, etc. link |
| Start date | 30 Jun 2018 |
| End date | 11 Aug 2018 |
| Presenter | Don Soker Gallery link |
| Venue | 2180 Bryant Street, Suite 205, San Francisco, CA, USA map |
| Image | Karin Wikstrom, Shadow Pattern II, 2018, 16 x 20 inches, acrylic gouache on wood panel, photo by Theodora Varnay Jones, courtesy of Don Soker Gallery |
| Links | Reviews of current exhibitions near this one |
| Share | Facebook, Twitter, Google+ |