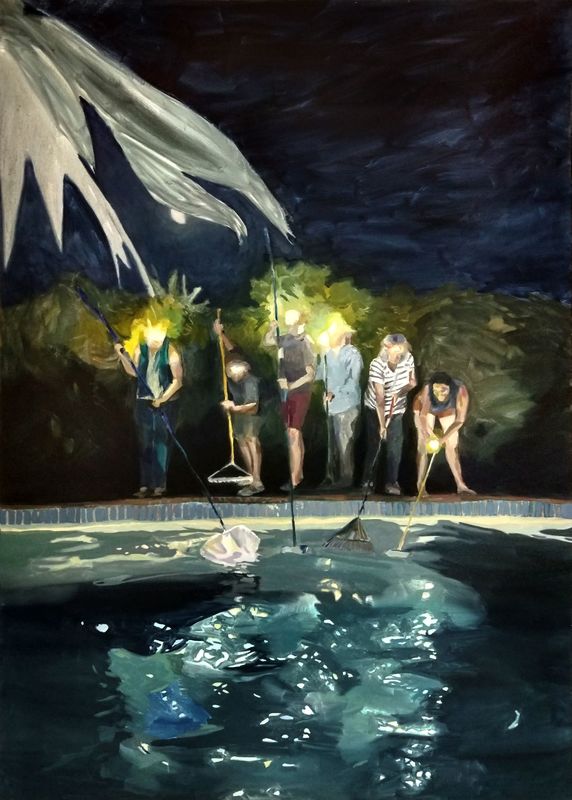 14 Sep 2018
Annie Blazejack and Geddes Levenson: Swamp Reclaims the Pool
Deering Estate
Reviewed by Elisa Turner
Annie Blazejack and Geddes Levenson conceive their joyfully colored and disorienting paintings together, building upon a longtime history of working in sync, even when miles apart. Their imaginations rove among similar dream-like terrains. They upend realistic renderings with what they have called, for this exhibit, "sci-fi alternate realities" engulfing their backyards.
Shifting surfaces shimmer and multiply. Perspectives pierce upward through water to sky, or down through water to darkness. A classic South Florida suburban pool is no longer predictable and dull. The artists inject bizarre, rebellious humor, recalling the region's swampy origins and rising seas.
They show us a woman swimming at night. Upon reaching the surface, her head becomes an alligator's gaping mouth. Other figures tussle with a giant turtle in a strange water world. People gather in Midnight, Poolside (2018) to search and stare into the depths. Perhaps they see suburbia reverting to its ancient origins.
| | |
| --- | --- |
| Exhibition | Annie Blazejack and Geddes Levenson: Swamp Reclaims the Pool |
| Start date | 30 Jun 2018 |
| End date | 14 Sep 2018 |
| Presenter | Deering Estate link |
| Venue | 16701 SW 72nd Avenue, Palmetto Bay, FL, USA map |
| Image | Annie Blazejack and Geddes Levenson, Midnight, Poolside, 2018, oil on canvas, 66 x 48 inches, courtesy of the artists |
| Links | Reviews of current exhibitions near this one |
| Share | Facebook, Twitter, Google+ |