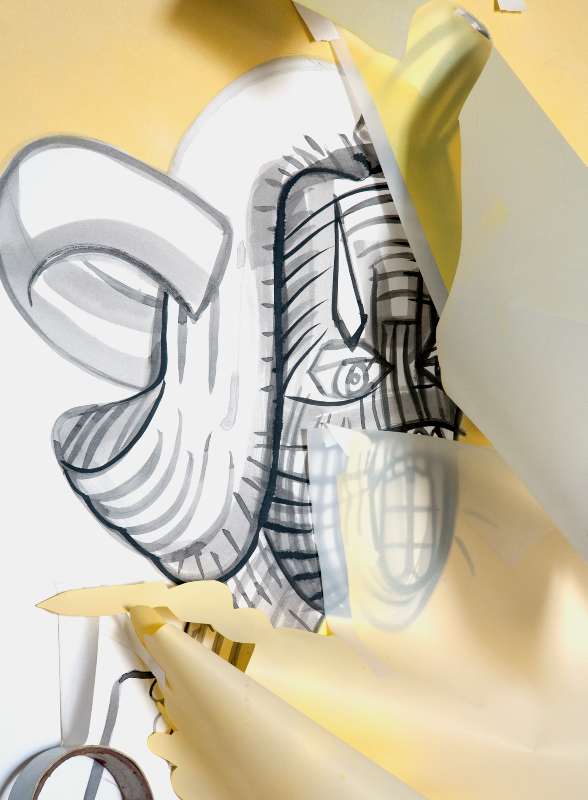 05 Oct 2018
Sara Stites: Journey
Under the Bridge
Reviewed by Elisa Turner
Sara Stites's notebooks spoke to her. They said to make heads, more heads, and faces. "See how far you can take it," they added. So she took these forms so far as to be barely recognizable. They sprouted surreal, large eyes, lolling tongues, and stretched, striated muscles. They grew into hairy abstractions with figurative residues.
Her pen and ink drawings perform manic dances, swaying from comic to scary and back again, somewhat akin to Philip Guston's cartoon realism, with sexy swathes of spray-painted color. In archival inkjet prints, rippling paper overlays and mingles with photographs of drawings, producing a symphony of vivid textures.
Each work is a deliciously intimate mystery, mixing flesh and form with calligraphic brushstrokes, luring the eye to separate the familiar from the fantasy, to tease out hybrid creatures. Dynamic lines spar with humanoid curves. The cock-eyed creature in Yellow Peeker (2018) leers in a gaze both menacing and beseeching.
| | |
| --- | --- |
| Exhibition | Sara Stites: Journey |
| Start date | 02 Sep 2018 |
| End date | 14 Oct 2018 |
| Presenter | Under the Bridge link |
| Venue | 12425 NE 13 Avenue, #4, North Miami, FL, USA map |
| Image | Sara Stites, Yellow Peeker, 2018, photograph, 40 x 30 inches, courtesy of the artist |
| Links | Reviews of current exhibitions near this one |
| Share | Facebook, Twitter, Google+ |