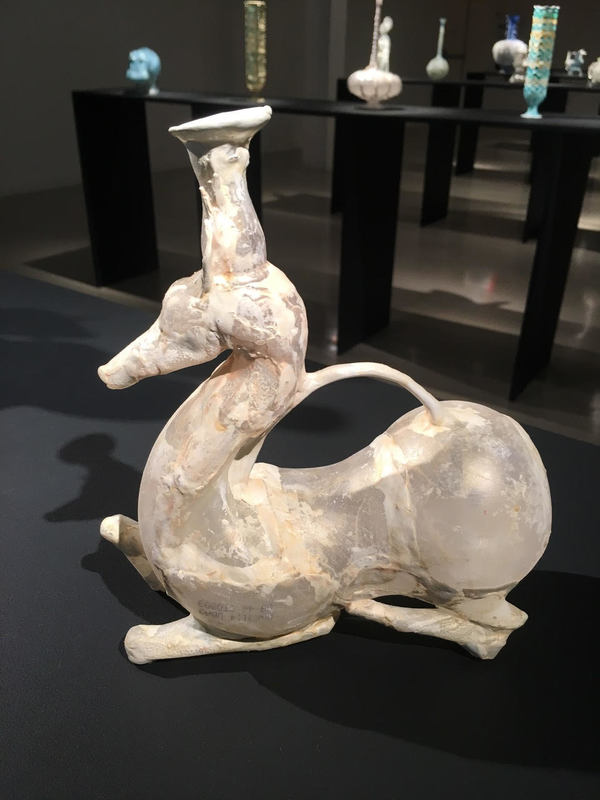 01 Nov 2018
Shari Mendelson: Glasslike
Agnes Varis Art Center at UrbanGlass
Reviewed by Suzanne Unrein
Bar codes emerge out of filmy surfaces that recall ancient Roman and Islamic glass vessels in the form of animals and mythical figures. Blending observation, memory, and invention, Shari Mendelson creates spin-offs that charm and delight while conjuring histories and collective memories. She constructs them from repurposed plastic, lending a contemporary, disquieting edge.
In Deer Askos (2018), the hoofed mammal becomes an ancient vessel with inward gaze and legs sensitively tucked under a curved torso. A "best by" date is branded on its rear end, a reminder of the environmentally hazardous material that formed it.
A feline appears more house cat than lion in Sphinx with Bar Code (2018). Its human face looks wary. Its wings are clipped. With fragile front legs and a heavy top, this mythical creature seems both vulnerable and heroic in its modern form.
"Glasslike" is a reminder of objects left behind, from the artifacts of ancient civilizations to plastics that refuse to break down.
| | |
| --- | --- |
| Exhibition | Shari Mendelson: Glasslike link |
| Start date | 12 Sep 2018 |
| End date | 03 Nov 2018 |
| Presenter | Agnes Varis Art Center at UrbanGlass link |
| Venue | 647 Fulton Street, Brooklyn, NY, USA map |
| Image | Shari Mendelson, Deer Askos, 2018, repurposed plastic, hot glue, resin, acrylic polymer, paint, mica, 8 x 3 x 7 inches, photo Suzanne Unrein |
| Links | Reviews of current exhibitions near this one |
| Share | Facebook, Twitter, Google+ |