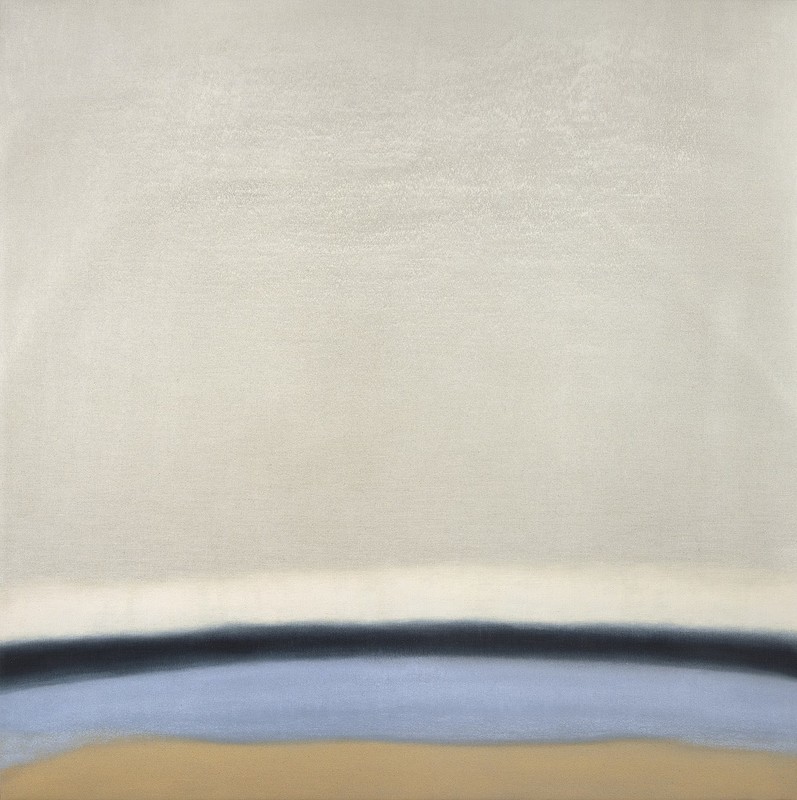 09 Nov 2018
Susan Vecsey
Berry Campbell
Reviewed by Maria-Lisa Farmakidis
The appearance of effortless beauty is not easy to produce. But this is the aspiration of Susan Vecsey's current show at Berry Campbell, an exhibition of twenty recent paintings, including her largest to date.
The artist has been working on this series of abstractions from nature for over a decade. She pours one layer at a time over a textured Belgian linen, creating subtle variations on the surface. Every next pour is a new layer of calculated risk.
Untitled (Blue/Gold) (all are 2018) is a six-foot square, most of which is a light gray. Across the lower edge, bands of vibrant gold, blue, and blue-black create a wide expanse that envelops the viewer.
The dark blues and deep reds in Untitled (Nocturne) are a new experiment. That composition and Untitled (Nocturne II) extend her range as a colorist, with wide spaces that shimmer with iridescence.
Vecsey's paintings are entirely concerned with color, light, and surface. They require looking at up close, in person.
Exhibition
Susan Vecsey link
Start date
11 Oct 2018
End date
10 Nov 2018
Presenter
Berry Campbell link
Venue
530 West 24th Street, New York City, NY, USA map
Image
Susan Vecsey, Untitled (Blue/Gold), 2018, oil on linen, 76 x 76 inches, courtesy of Berry Campbell
Links

Reviews of current exhibitions near this one

Reviews by Maria-Lisa Farmakidis

Share
Facebook, Twitter, Google+