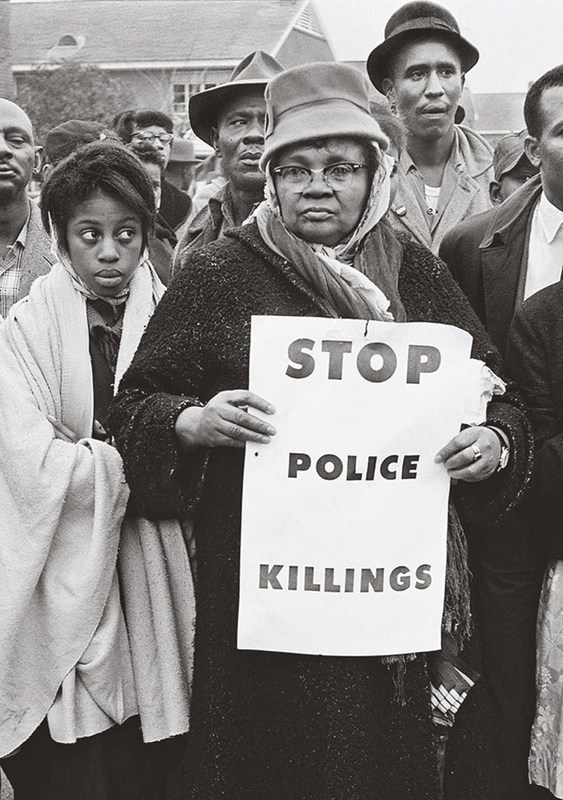 29 Nov 2018
Time is Now: Photography and Social Change in James Baldwin's America
Carpenter Center for the Visual Arts, Harvard University
Reviewed by Heather Kapplow
Drawing parallels between James Baldwin's writing and the way that American documentary photography captured the period from the Great Depression through the Civil Rights movement, "Time is Now" is a clean, simple space of reflection on race in the era when Baldwin was writing most prolifically. The current moment is not present in the images, but it feels present in the room.
Case in point: Steve Schapiro's Stop Police Killings, Selma (1965) could easily have been ripped from a contemporary news feed, except that folks are dressed a bit differently and aren't taking selfies.
Danny Lyon's Segregated Drinking Fountains in the County Courthouse in Albany, Georgia (1962) is a chilling reminder of how even much more institutionalized racism was then than it is now. But in the now, it's also striking to note that of all of these images, drawn from Harvard's permanent collection, only one was shot by an African-American.
| | |
| --- | --- |
| Exhibition | Time is Now: Photography and Social Change in James Baldwin's America link |
| Start date | 13 Sep 2018 |
| End date | 30 Dec 2018 |
| Presenter | Carpenter Center for the Visual Arts link |
| Venue | Harvard University, 24 Quincy Street, Cambridge, MA, USA map |
| Image | Steve Schapiro, Stop Police Killings, Selma, 1965, gelatin silver print, 20 x 16 inches, Harvard Art Museums/Fogg Museum, Richard and Ronay Menschel Fund for the Acquisition of Photographs |
| Links | Reviews of current exhibitions near this one |
| Share | Facebook, Twitter, Google+ |