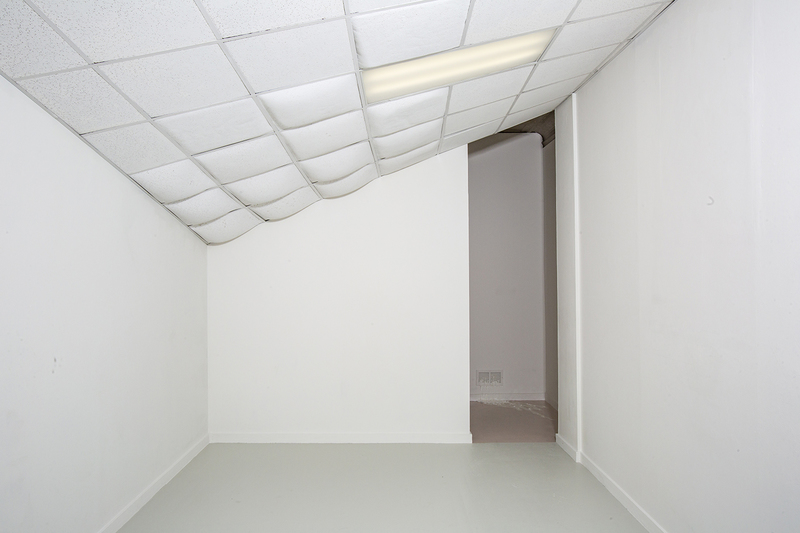 29 Dec 2018
Serra Victoria Bothwell Fels: Bad Boundaries
Catinca Tabacaru
Reviewed by William Corwin
Serra Victoria Bothwell Fels appropriates soundproof tiling, the least appealing of architectural materials, and instills a sympathetic, albeit tragic sensibility in this inanimate substrate. She contorts it, making it an elegiac but not oppressive presence in the space. The artist has installed a drop ceiling, and it bulges, buckles, and slopes down, seemingly of its of own accord.
Initially this exhibition appears obsessed with special effects. The soundproof tiles have been meticulously reshaped. Bothwell Fels has put no objects in the space, so her project is entirely about altering the surfaces of the gallery. But this is more about poetry than persuasion. The ceiling and hardware of the room have become soft. Light switches bend, vents weep, and indifferent materials have become flesh.
Plugged in as if recharging, several wrecked iPhones, on the floor and windowsill, display videos on their cracked screens - footage of the artist touching things. Bad Boundaries (2018) is not so much about physical boundaries being bad, as them learning from watching their inhabitants.
| | |
| --- | --- |
| Exhibition | Serra Victoria Bothwell Fels: Bad Boundaries link |
| Start date | 16 Nov 2018 |
| End date | 06 Jan 2019 |
| Presenter | Catinca Tabacaru link |
| Venue | 56 Bogart Street, Brooklyn, NY, USA map |
| Image | Serra Victoria Bothwell Fels, Bad Boundaries, 2018, mineral fiber, aluminum, fiberglass, and gypsum, photo courtesy of Cantica Tabacuru |
| Links | Reviews of current exhibitions near this one |
| Share | Facebook, Twitter, Google+ |