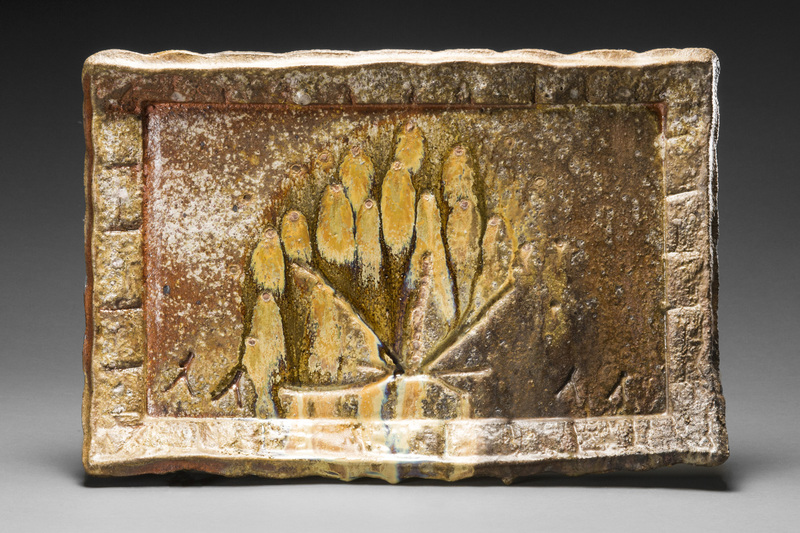 22 Feb 2019
Tony Moore: Transit
Painting Center
Reviewed by Harry Newman
For more than thirty years, Tony Moore has been exploring and expanding the possibilities of ceramic as art, while also keeping to the oldest traditions of the craft. The result is work that's both contemporary and somehow beyond time.
Largely known for sculptural works, Moore is showing for the first time a large group of his "fire paintings," square and rectangular wall pieces with fields of imagery made through the slow processes of heat on glaze, stone and glass inserts, imprints of twigs and leaves. With coarse, mottled surfaces, they could be artifacts of a lost culture newly unearthed, their repeated images and markings familiar yet obscure. Mystery and a sense of displacement imbue the work.
This comes through most strongly in the simpler pieces like Fire Painting 18.11.18 and 17.11.18 (both 2018), where vague, hunched shapes resembling groups of people fade into outline. The sparest of elements suggest departure and loss. It's this quiet weight that lingers.
| | |
| --- | --- |
| Exhibition | Tony Moore: Transit link |
| Start date | 29 Jan 2019 |
| End date | 23 Feb 2019 |
| Presenter | Painting Center link |
| Venue | 547 West 27th Street, Suite 500, New York City, NY, USA map |
| Image | Tony Moore, Fire Painting 17.11.18, 2018, wood-fired ceramic, stone inclusions, courtesy of the artist |
| Links | Reviews of current exhibitions near this one |
| Share | Facebook, Twitter, Google+ |