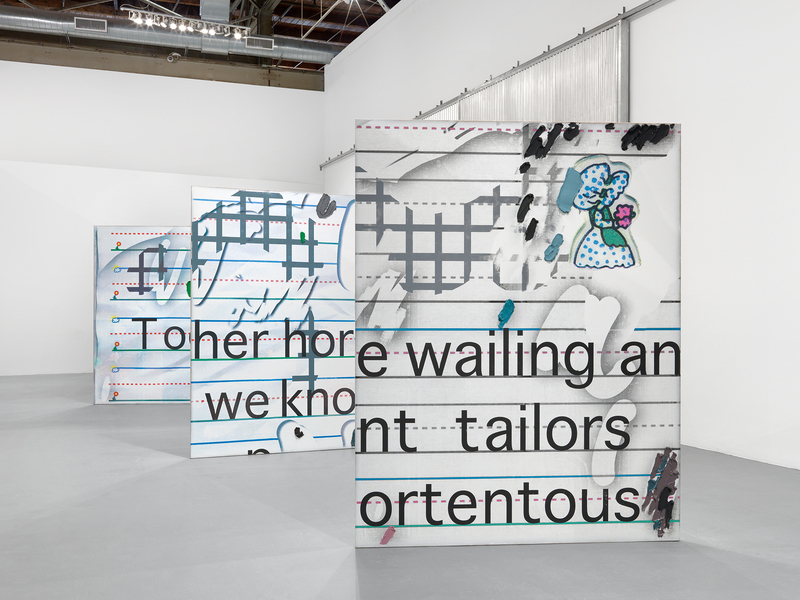 25 Mar 2019
Laura Owens
Museum of Contemporary Art
Reviewed by Jeff Hansen
Laura Owens has made a twofold contribution to art making: her commitment to the expansion of painting's boundaries beyond stretcher and canvas, and her transparency in her role as an artist.
The exhibition catalogue for her mid-career survey at MoCA Los Angeles is a looking glass into the life of a struggling artist, revealing triumphs and failures. She openly displays scenes of motherhood, rejection letters, and gossipy correspondences with galleries. It's one for future generations to unpack.
Her works contain Easter eggs in the cinematic sense, such as paintings that provide aural responses to text messages (I had a conversation with one) and her signature trompe l'oeil drop shadows. But they're like an iPhone, cold, sleek, and activated by a false sense of touch.
Instead of warmth we get architectural gameplay. Paintings that function as literal clocks, paintings expanding without edge, and paintings that contain paintings. The expansion of painting, along with a depicted pack of cigarettes and a tiny Guernica, are jewels that keep pushing me back into my own studio.