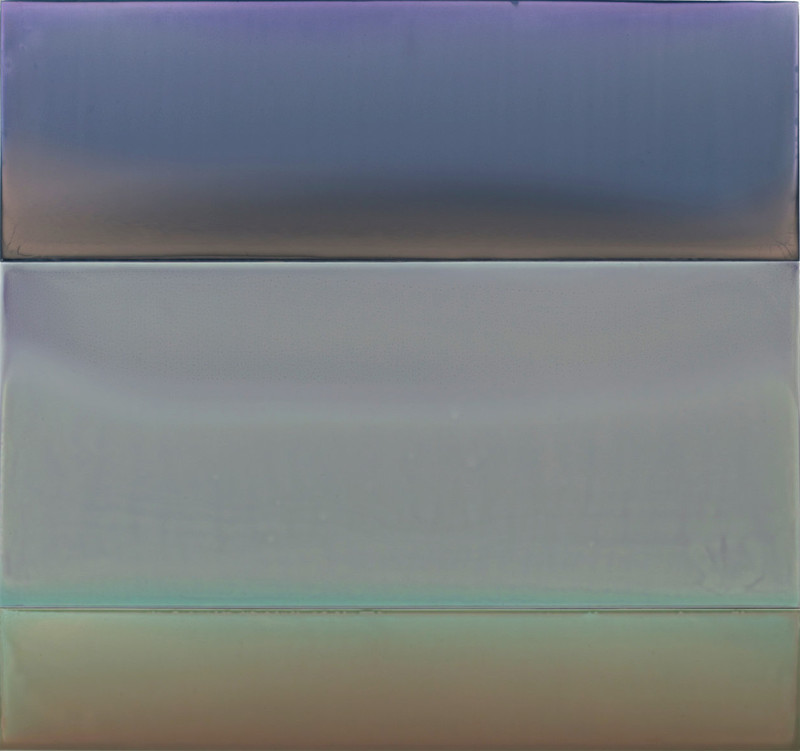 04 May 2019
Susan English: Periphery
Kathryn Markel Fine Arts
Reviewed by Elizabeth Johnson
Susan English's poured polymer surfaces mimic space and natural light. They grip depth perception, and perceiving their features steers vision toward the unseen.
Color-swathed and shaded rectangles are arranged horizontally or vertically, their silky interiors wedged between definitive edges. Vertical stacking reads as landscape, and one horizontal grouping registers as a series of events. Interior shadows belly from the edges, softening the precision. Hues shimmer and seep like air, and crinkle like earth. Taken together, the ratios of layered color recall dawn, dusk, or smog, as skies dim with grainy particles and sunsets blaze bright at the horizon.
Paintings appear within the paintings. The rectangles made by pouring often stop shy of the physical edge. Here, the layers show, and the calm of the interior is corralled by flux. Incidental marks suggest movement and scale, and raw color indicates heightened energy. Closest to the edge, where physical and painted limits blend as one, attention pours into the panel seams, into whatever lies beneath.
| | |
| --- | --- |
| Exhibition | Susan English: Periphery link |
| Start date | 28 Mar 2019 |
| End date | 04 May 2019 |
| Presenter | Kathryn Markel Fine Arts link |
| Venue | 529 West 20th Street, Suite 6W, New York City, NY, USA map |
| Image | Susan English, Shadow Light, 2019, tinted polymer on aluminum and wood panel, 34 x 36 inches, courtesy of Kathryn Markell Fine Arts |
| Links | Reviews of current exhibitions near this one |
| Share | Facebook, Twitter, Google+ |