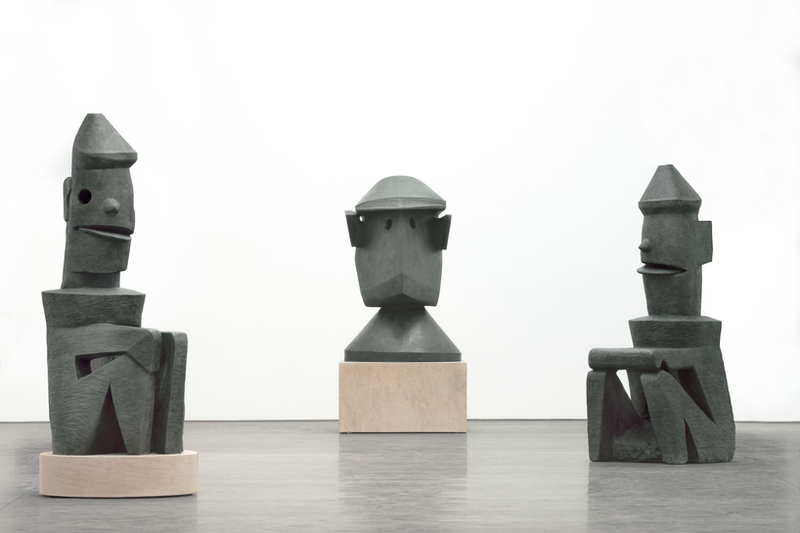 12 May 2017
Max Ernst, Big Brother: Teaching Staff for a School of Murderers
Paul Kasmin Gallery
Reviewed by Franklin Einspruch
One can tell that the three imposing figures in Paul Kasmin Gallery are up to no good, even before their collective title identifies them as the "Teaching Staff for a School of Murderers."
Max Ernst gave each of them a name. One is Séraphin le Néophyte, the blind idiot of the group, whose duty is to sit on the ground and yell a neverending warlike drone from his geometric mouth. Another is Séraphine-Chérubin, whose mocking tongue is pointed at something seen through her blank, circular eyes. The third, Big Brother, regards the view before him from under his flat cap, stonily making plans for you.
These bronzes were editioned in the late Sixties and nevertheless seem like they came out of the forge last week as a comment upon the current political climate, with shrill actors - nominally angels, but obviously clowns - carrying out obdurate schemes. One can imagine their exquisitely abstracted forms aptly gracing a house of governance. Or better yet, a college campus.
| | |
| --- | --- |
| Exhibition | Max Ernst, Big Brother: Teaching Staff for a School of Murderers link |
| Start date | 30 Mar 2017 |
| End date | 13 May 2017 |
| Presenter | Paul Kasmin Gallery link |
| Venue | 515 West 27th Street , New York City, NY, USA map |
| Image | Max Ernst: Big Brother: Teaching Staff for a School of Murderers, photo by Diego Flores & Christopher Stach, courtesy of Paul Kasmin Gallery |
| Links | Reviews of current exhibitions near this one |
| Share | Facebook, Twitter, Google+ |