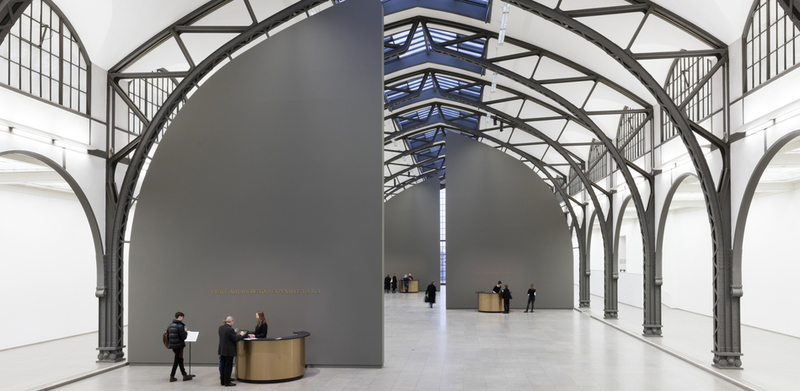 15 May 2017
Adrian Piper, The Probable Trust Registry: The Rules of the Game #1-3
Hamburger Bahnhof - Museum für Gegenwart - Berlin
Reviewed by Vera Wilde
The sweeping arches and skylit ceilings of the Hamburger Bahnhof accentuate the Registry's Potemkin grandeur, with its gold lettering on towering walls, smooth touchscreens, and neat workers. It also conveys emptiness, with reception desks that lead to no interior. The trappings of power it uses, like the former train station housing it, lack their usual content.
This physical inversion - of the outer, routinized part as the inner, substantive one - mirrors its conceptual inversion. Corporate settings demand false selves. The Registry requests true ones. True to the artist, who invites viewers to contract to trustworthiness-related commitments. True to oneself, as the contracts revolve around authenticity. And true to other registrants, who alone share Registry access.
Science shows that most people lie in order to seem more socially desirable, under-reporting risky behavior and over-reporting moral behavior. This is a registry of probable liars.
| | |
| --- | --- |
| Exhibition | Adrian Piper, The Probable Trust Registry: The Rules of the Game #1-3 link |
| Start date | 04 Feb 2017 |
| End date | 03 Sep 2017 |
| Presenter | Hamburger Bahnhof - Museum für Gegenwart - Berlin link |
| Venue | Invalidenstraße 50-51, Berlin, DEU map |
| Image | Adrian Piper, The Probable Trust Registry: The Rules of the Game #1-3, 2013-2017, installation & group performance: 3 gray walls reaching from floor to the ceiling, 3 golden circular desks, golden embossed letters, 3 standing desks, 3 lean stools, computer system, 3 receptionists (one behind each desk), dimensions variable, exhibition view © Staatliche Museen zu Berlin, Nationalgalerie / David von Becker, Sammlung Staatliche Museen zu Berlin, Nationalgalerie, 2016 Schenkung der Freunde der Nationalgalerie, © Adrian Piper Research Archive Foundation Berlin, © APRA Foundation Berlin, courtesy of the Hamburger Bahnhof - Museum für Gegenwart - Berlin |
| Links | Reviews of current exhibitions near this one |
| Share | Facebook, Twitter, Google+ |